Jane The Virgin Preview Teases A Big Twist And A Lot Of Drama For One Virtuous Woman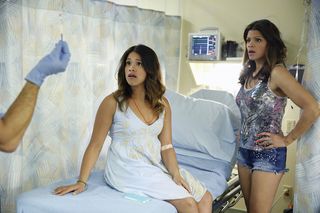 Who's ready for a dramatic story about a 23-year-old virgin who accidentally gets artificially inseminated with the sperm of a dreamy billionaire? Because that's what CW has coming this fall. Jane the Virgin is said to be a loose adaptation of a Venezuelan telenovela. Gina Rodriguez stars as the titular virgin, whose life is turned upside down by an erroneous insemination. These things happen.
Jane the Virgin comes from executive producers Jennie Snyder Urman, Ben Silverman, Gary Pearl, Jorge Granier and Brad Silbering. Here's the official synopsis for the series.
CW has only released the 30-second spot for Jane the Virgin, which barely seems to scratch the surface of this whacky premise. Looking at the synopsis, there's more potential in this story, like the conflict involving her fiance, and the fact that Jane is carrying some billionaire's baby. Hopefully we'll get a bigger peek at this drama in the near future. In the meantime, it looks like it could be cute.
UPDATE: Here's a clip that shows Jane learning she's pregnant. And obviously it's a shock.
And this preview image shows her as a mermaid. Not a real one, obviously...
The CW has Jane The Virgin on the schedule for Monday night at 9:00 p.m., airing after The Originals. Check out the full 2014-2015 lineup here.
Your Daily Blend of Entertainment News
Thank you for signing up to CinemaBlend. You will receive a verification email shortly.
There was a problem. Please refresh the page and try again.