Joss Whedon Is Already Working On New Scripts For ABC's S.H.I.E.L.D.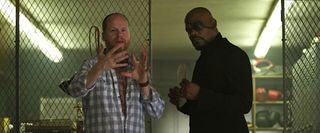 Among the more anticipated pilots in the works this season is Joss Whedon's S.H.I.E.L.D. drama. Between the involvement of the Buffy the Vampire Slayer and Firefly creator and the Marvel backdrop, the pilot naturally has fans' interest piqued, so it's no surprise that the subject came up at the TCA's today when ABC's entertainment president Paul Lee spoke to the press.
Since last summer, we've known that Joss Whedon was making a pilot that would focus on the S.H.I.E.L.D. organization featured on Marvel's Avengers and there have been some casting updates since then. While there's no official word on whether the pilot is going to be given a series order, Lee sounds hopeful that it'll happen.
EW reported on the topic today and included a few interesting pieces of information, including that Whedon is directing the pilot as well as writing it. It also sounds like ABC is optimistic about the project, as EW quotes Lee as saying he's "hopeful" that the show will receive an order. That in itself doesn't guaranty anything, of course, but Lee did admit they've invested a pretty penny in this project. Though it might not be the most expensive pilot made for the network, Lee says, "We'll certainly be investing in it. It's a big franchise for us."
There's more good(ish) news concerning the potential series. Lee told reporters that Whedon is "very engaged" in the creative process even with his other big screen commitments. That includes working on other scripts beyond the pilot. Lee didn't give up much in the way of details about the plot, other than that the story is "attached to" (but not about) The Avengers and that it's a great story.
Based on Lee's comments, it sounds like ABC is giving the project the right kind of support, both financially and in making it (hopefully) relatively convenient for Whedon to work on it while also juggling everything else he has going on. On a personal note, The Avengers and Cabin In The Woods were among my favorite movies last year, so I'm beyond grateful for the work Whedon has been doing in the feature area, but as a TV viewer, I'd love nothing more than to see another Joss show on the air. Lee's additional comments on the tone of the show only further my hope that this pilot will go to series and that Whedon will stay involved with it beyond the pilot…
Those of us who have laughed, gasped, teared up and geeked out at any point while watching Buffy, Firefly, Dr. Horrible or just about anything else Whedon has been involved in likely understand exactly what Lee is saying right there. The fact that he recognizes Whedon's strength as a writer (and not just his popularity and devoted/rabid fandom) is certainly encouraging. Now we just have to keep our fingers crossed that this project moves forward.
Kelly joined CinemaBlend as a freelance TV news writer in 2006 and went on to serve as the site's TV Editor before moving over to other roles on the site. At present, she's an Assistant Managing Editor who spends much of her time brainstorming and editing feature content on the site.
Your Daily Blend of Entertainment News
Thank you for signing up to CinemaBlend. You will receive a verification email shortly.
There was a problem. Please refresh the page and try again.