July 4th TV Marathons Include The Walking Dead, Futurama, Batman, The Twilight Zone & More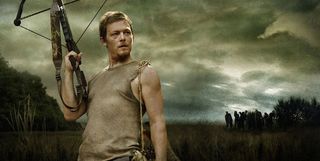 July 4th is a great time of year to celebrate the birth of our great nation and appreciate Independence, democracy and our troops whilst filling our stomachs with barbecued goodies and feasting our eyes on fireworks displays. Or we can stay inside and watch non-stop The Walking Dead episodes back to back to back! I mean, maybe it's raining. Or maybe zombies are how you want to acknowledge Independence Day. The point is, TV has plenty to offer those who prefer the comfort of their living rooms to outdoor festivities.
We've begun the process of rounding up the various Fourth of July TV marathons. We'd be happy to add to the list as more runs of TV shows (or movies) are brought to our attention. In the meantime, here's what we've gathered thus far for the 2014 July 4th weekend, which begins this Friday:
Syfy- Twilight Zone marathon begins at 8 a.m. on Friday, after which it resumes on Saturday at midnight (airing 12 a.m. to 4 a.m. Saturday night).
Starz - Episodes 1-4 of Power will air on Friday night beginning at 9:00 p.m.
Showtime - Masters of Sex Season 1 will begin airing Friday at 6:00 p.m. The marathon is followed by Ray Donovan Season 1, which begins airing Sunday, July 6.
AMC - All four seasons of The Walking Dead will air back to back, beginning Friday at 9:00 a.m. Catch a preview special for TWD Season 5 hosted by Chris Hardwick (featuring Scott Gimple and Aisha Tyler) on Sunday night at 9:00 p.m. ET/PT.
Hub - Hub's celebrating Transformers' 30th anniversary by airing Transformers Rescue Bots, Transformers: The Animated Movie, Transformers Prime Beast Hunters Predacons Rising, beginning at 11:00 a.m. on Friday.
MTV - MTV has an Awkward marathon starting Friday at 11:30 a.m. There's a run of Catfish episodes beginning at 6:00 p.m., and then a Ridiculousness marathon beginning Friday night at 10:00 p.m. and airing all the way through most of Saturday.
USA - USA has NCIS set to air Friday from 6 a.m. to 8 p.m., And then a run of Modern Family episodes airing Friday from 8:00 p.m. to 11:30 p.m.
E! - E! has Sex and the City episodes airing on Friday from 2:00 p.m. ET to Midnight.
Comedy Central - CC has five episodes of South Park airing at 7:00 p.m. on Saturday. And then there's a big Futurama marathon airing Sunday starting at 4:30 p.m.
TNT - Find all three Lord of the Rings movies (Fellowship of the Rings, Two Towers and Return of the King) airing on Sunday starting at 9 a.m.
Food Channel: Diners, Drive-ins and Dives will air on Friday, starting at 6:30 p.m. all the way through to 4:00 a.m. Friday night (or technically very early Saturday morning.) The series will return for another late night run, beginning 7:00 p.m. on Saturday evening. The Pioneer Woman has a run of episodes lined up on Sunday starting at 1:30 p.m.
A&E: Get your fill of Dog the Bounty Hunter from 7:00 a.m. to 4:00 p.m. on Friday, then it's non-stop Criminal Minds from 4:00 p.m. to 3:00 a.m.
TLC: TLC has a Duggar family marathon going on starting Friday at 6:00 a.m. with episodes of 17 Kids and Counting, leading to A Very Duggar Wedding at 8:00 a.m. and then 18 and 19 Kids and Counting airing all day (until 7:00 p.m.) on Friday, starting at 9:00 a.m., after which TLC shifts to lots and lots of Say Yes to the Dress. There's more of Say Yes to the Dress on Saturday (1:00 p.m. - 3:30 p.m.) airing after a run of Extreme Couponing (9:00 a.m. to 12:30 p.m.).
Travel Channel - Food Paradise will air Friday from 9:00 a.m. - 7:00 p.m.
Discovery - There's plenty of Fast N' Loud airing Friday 3:00 p.m. to 2 a.m.. Then on Saturday at 11:00 p.m. Alaskan Bush People will air a run of episodes. At 4:00 p.m. on Saturday, you'll find plenty of Deadliest Catch.
IFC - Starting at 6:00 a.m. Friday, IFC will air the original Batman TV show.
National Geographic - Nat Geo has Life Below Zero marathoning starting at 9:00 a.m. on Friday and airing all day. On Saturday, they're marathoning Alaska State Troopers. And then on Sunday at noon, they'll start airing The 80s: The Decade that Made Us all day leading up to the premiere of the first part of their miniseries The 90s: The Last Great Decade.
Netflix - Obviously, Netflix has no shortage of binge-watchable material. But if you haven't gotten caught up on Orange is the New Black or House of Cards, both are well worth a look and each series has two seasons already!
We'll be sure to update with more marathons if we hear about them! Know of a great TV marathon airing this weekend? Feel free to drop it in the comments!
Your Daily Blend of Entertainment News
Thank you for signing up to CinemaBlend. You will receive a verification email shortly.
There was a problem. Please refresh the page and try again.