Kate Plus 8 Preview: TLC's Kate Gosselin Special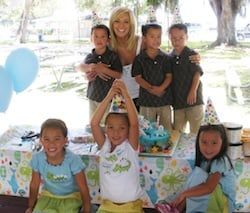 This Sunday night, TLC is set to air a two-hour special on Kate Gosselin and her life as a single mom. We have a video preview of the special to share with you as well as some information released by TLC.
Set to air Sunday (June 6th), starting at 9:00 p.m. on TLC, the first hour will feature Kate as she takes the kids to Orlando to celebrate the sextuplets' birthdays. As it's her first trip on her own with the kids, the stress is likely to be higher than usual. The second hour is titled, "Inside Kate's World" and is a behind-the-scenes look at what Kate's life is like, now that she's flying solo as a parent.
Below is TLC's synopsis for both specials and further down's a video preview.
Your Daily Blend of Entertainment News
Thank you for signing up to CinemaBlend. You will receive a verification email shortly.
There was a problem. Please refresh the page and try again.