Katie Couric Likely Headed To Daytime ABC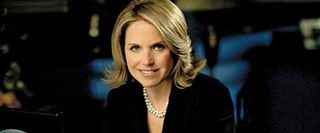 Katie Couric's been getting unbelievable press, since it was announced she was leaving the CBS Evening News lineup. The once daytime queen turned nighttime poor ratings maker is not suffering from options. The rumor mill has abounded with whispers over whether Couric will turn to another network or cable as her next gig, but those whispers have all amassed together to espouse Couric will return to daytime television. Her last daytime gig was on NBC's The Today Show.
A return to daytime television might seem like a defeat, but is probably a victory for Couric, who relies heavily on human interest pieces in her reporting. This continuously made her last in the evening news rankings, but is completely suitable for daytime television, where her competition is all over human interest. Just look at what went on during episodes of The Oprah Winfrey Show.
In fact, Couric might just get the coveted Oprah position. According to The Wall Street Journal, Couric will probably be headed to ABC, where she is expected to host a talk show. The traditional Oprah time spot has been spoken for in the fall, but with One Life To Live and All My Children's runs nearly finished, there will be some open time slots in the future. The official announcement is expected to appear as early as Monday.