Kevin Smith's Spoilers And Richard Linklater's Up To Speed Among Hulu's Summer Programming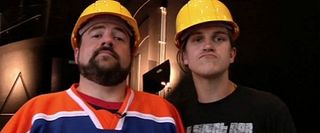 As midseason draws to a close, Hulu announced today a list of new original programming and exclusive overseas series set to premiere this summer. Among the new originals is a new series hosted by Kevin Smith, Spoilers and Richard Linklater's Up to Speed, while Hulu is bringing over shows like Rev and Little Mosque, making them available to U.S. viewers for the first time.
It's a pretty strong summer slate for Hulu, with two well-known filmmakers heading up the unscripted side of the programming. Kevin Smith, the man behind Clerks and Dogma and Richard Linklater, who is responsible for Dazed and Confused and School of Rock will each bring their own new series to the streaming video site. The third original, We Got Next comes from America's Next Top Model creator Kenya Barris and The Game writer/producer Hale Rothstein. Here's a quick rundown on each of these three:
Spoilers is a half-hour show in which Kevin Smith will invite special guests to join him in an in-depth discussion of the summer's biggest movies. The series will include group chats, animated shorts, and interviews with pop culture's big names. It premieres June 4th.
Up to Speed is Richard Linklater's version of a travel show; hosted by Timothy "Speed" Levitch, the series is dedicated to visiting those less well-known of America's monuments. The series goes off the beaten path to check out things like San Francisco's shoe gardens. The premiere is set for August.
We Got Next is a series about four guys who get together to play basketball weekly, resulting in plenty of raunchy and entirely inappropriate conversation and general bad advice – all expected to be funny to those with the sense of humor for that sort of thing. This one starts up in August as well.
Hulu is also bringing over a list of overseas programming, and some that's from a little closer. The Yard hails from Canada and is a mockumentary about rival schoolchildren. British comedy Rev follows the life of an inner-city vicar who is not at all suited to his assignment. Derren Brown: Inside Your Mind is a Criss Angel-like series featuring the stunt's of the U.K.'s version of Angel. Pramface also hails from the U.K. and tells the story of two teenagers who find themselves unexpectedly facing parenthood together. Another U.K. hit, The Promise, examines the Middle East conflict from two viewpoints separated by 60 years. Also coming to Hulu is Little Mosque which has 91 episodes and focuses on a small Muslim community who rent space in a small town church to use as their mosque.
Finally, Hulu will be bringing us the second season of The Booth at the End , about a mysterious man who sits in a corner booth at a diner and grants wishes, but at a price. Hulu (opens in new tab) has previews of all of the summer programming available. All of the series are available to both Hulu and Hulu Plus subscribers. Looks like there's just about something for everyone in this summer lineup.
Your Daily Blend of Entertainment News
Thank you for signing up to CinemaBlend. You will receive a verification email shortly.
There was a problem. Please refresh the page and try again.