Legend Of The Seeker Nabs Charisma Carpenter For Premiere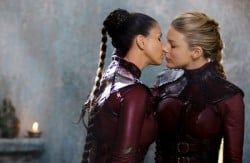 Set your DVRs to find Legend of the Seeker the weekend of November 7th, because you're not going to want to miss the season premiere. You'll have to find it yourself as local times vary; the price of a syndicated show. And if a new season isn't enough, how about Charisma Carpenter?
The Buffy the Vampire Slayer and Angel alum will be appearing as a guest-star on the second season premiere, according to a press release. And she'll be sporting the leather fetish-gear that all Mord'Sith wear.
Speaking of Mord'Sith, remember Cara, the Mord'Sith who went with Richard into the future and reluctantly joined forces with him to save Kahlan and Zedd in the present. She, along with her real-life counterpart Tabrett Bethell, has been upgraded to a series regular with the second season.
If the character arc follows the books at all (SPOILER ALERT!), she will become a fierce and loyal ally to Richard. But I see it as more trouble for Richard. Now he'll have a seriously gorgeous distraction between him and Kahlan. But at least he'll have a Mord'Sith on his side, though I'm not sure how quickly she will come to fight alongside him, if she does at all in this version.
As for Charisma Carpenter, she'll be playing the role of the Mord'Sith Triana, who comes to challenge Cara's authority. Remember that Cara was the leader of the band of Mord'Sith in the giant confrontation in that season finale. What's that? You don't really remember the season finale?
That's okay, because if you don't remember it or even if you didn't see it, the first season finale will be airing just before the new second season premiere in a two-hour event!
With Charisma Carpenter sliding into the tight leather of the Mord'Sith, and word already having come out that Star Trek: Enterprise hottie Jolene Blalock is joining Legend later on this season in a recurring role as a Dark Sister, the question presents itself: Which other sexy sci-fi and fantasy vixens would you like to see in tight leather and plunging necklines on Legend of the Seeker?
Your Daily Blend of Entertainment News