Lily Tomlin Tapped For ABC Comedy Pilot With Reba McEntire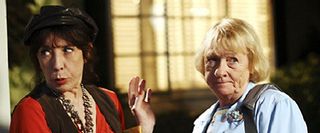 It's been a long time since we've seen the wonderful Lily Tomlin on a regular TV role, but there's hope we might see it soon. She has signed on for a role in the Reba McEntire pilot for ABC, Malibu Country. She'll take on a lead opposite Reba herself, playing the country singer turned TV actress' mother.
Deadline reports that Tomlin has been tapped to play the role of the warm and (obviously) funny, if unintentionally so, Southern woman whose famous country singer daughter (Reba of course) divorces her husband after he spends most of her earnings and has affairs. The two move to Malibu from Nashville with the couple's three kids, where McEntire's character still owns a house after the divorce fallout, and attempt to keep clear heads in the beachfront community home to the rich and famous. Maybe they can hang out with Hannah Montana and her dad, another pair of Southerners transplanted to Malibu.
This is the first time Tomlin is facing a possible regular role on a TV series since Murphy Brown, which feels like a really long time ago. She's done plenty of guest appearances since, including Damages and Desperate Housewives. Although Reba playing herself (again) seems like a re-hash of her last show, Reba - and her character on the new show is also named Reba, to add to the similarities – adding Tomlin to the cast gives this pilot a major boost in the odds of being a winner. Hopefully Kevin Abbot, the showrunner who was also behind Reba can reign in the similarities between the two projects and make Malibu Country stand out. This casting news definitely helps.
Your Daily Blend of Entertainment News
Your Daily Blend of Entertainment News
Thank you for signing up to CinemaBlend. You will receive a verification email shortly.
There was a problem. Please refresh the page and try again.