Limitless Is Quietly Having Some Problems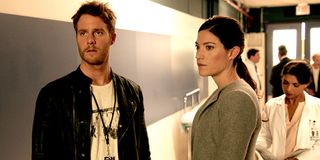 Kicking off this fall, the flashy new series Limitless has had a lot going for it, including the fact that it stars Dexter's Jennifer Carpenter, is based on a pretty popular movie and features Bradley Cooper on the occasional basis. Not to mention it finally seemed to be the perfect fit for Jake McDorman, who was also in the failed Manhattan Love Story and Are You There Chelsea? While numbers related to the series looked pretty good this fall, they have slowly dropped, hitting a series low this week. So what does that mean? For one, only 5.9 million total viewers tuned in for the CBS drama on Tuesday night.
On the surface, 5.9 million total viewers doesn't seem all that bad, but when you factor in the fact that most of the viewers were older people, it doesn't look nearly as good. Limitless only brought in 1.1 rating in the advertising demographic (18-49) on Tuesday night, which means it pulled in far few viewers than either NCIS show last night. Even the CW's The Flash did better, pulling in a 1.4 rating—and that series skews young enough that it only needed 3.8 million total viewers to reach that ratings mark. Sure, Limitless and The Flash don't directly compete in a timeslot, but it still seems relevant to relate what one show can do versus what the other show can on the same night.
Elsewhere on CBS, TV Line reports that NCIS pulled in 17.4 million total viewers and a 2.4 rating and NCIS: New Orleans brought in 12.5 million viewers and a 1.8 ratings, so it's not like Limitless was suffering from a bad lead-in when it aired at 10 p.m. ET. Still, that 10 p.m. Tuesday slot has always been a rough one for shows on most of the major networks. Last season it was the timeslot that killed off Forever on ABC. So, Limitless was clearly always going to have an uphill battle from the time it was greenlit for Tuesday nights.
The bigger problem is the show has quietly started to do fewer viewers each week in Live+Same Day numbers. We already know that the show's DVR and streaming viewership is really good, and should be helping to rectify the ratings situation, but if the show can't keep up with other content that is being produced by CBS, there's a chance we won't see it on the schedule next year. We'll have to wait to see how Limitless fares as it heads into the spring season, when numbers are often lower for TV programs.
There are a lot of new series that have had great seasons so far this fall. Shows like NBC's Blindspot and Fox's Scream Queens (also low-rated but with a large audience watching via alternative platforms) have already earned renewal orders. Then again, there have been a lot of freshman programs that have already seen their episode orders cut or have been officially cancelled like Minority Report. Between these are a lot of freshman shows that have mid-sized audiences, but may need to really push through the spring to maintain numbers that will help them to be renewed for Season 2.
At the end of the day, is a 1.1 rating in the 18-49 demographic a disaster? No, but it is a fairly low rating for network TV in general and CBS especially prizes itself on pulling in better numbers in the demo than other channels these days. We'll have to wait and see if Limitless is limitless, after all.
Reality TV fan with a pinch of Disney fairy dust thrown in. Theme park junkie. If you've created a rom-com I've probably watched it.
Your Daily Blend of Entertainment News
Thank you for signing up to CinemaBlend. You will receive a verification email shortly.
There was a problem. Please refresh the page and try again.