MTV Cancels Buckwild Following Shain Gandee's Death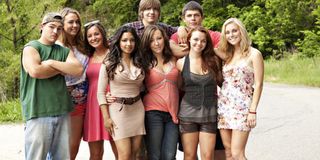 It was really the only decision they could make.
Following the sudden death of star Shain Gandee last week, MTV promptly canceled production on the second season of Buckwild, a "redneck Jersey Shore" reality show that featured yet another group of young people behaving badly in front of the camera. Gandee's death had no apparent connection to the show and was deemed an off-loading accident, but MTV knew they couldn't continue shoving the cameras in these kids faces as they handled a real tragedy… and now they've made the prudent decision to stop doing it entirely.
Deadline reports that MTV has canceled Buckwild for good, and even with enough footage already shot to make up several new episodes for Season 2, the network "couldn't see any way to continue the series without Gandee." They filmed a special before Gandee's death on April 1 that may still air, but beyond that, Buckwild is finished.
This wasn't the first time the Buckwild cast made headlines outside the show, with several arrests that served only to bolster their reputation as Appalachia's answer to Jersey Shore. But when it comes to death-- and senseless, unexpected death at that-- no network in their right mind would try to exploit it. You can debate if Buckwild was a good idea to begin with, but at this point, seeing is cancelled is only a good thing.
Your Daily Blend of Entertainment News
Staff Writer at CinemaBlend