MTV VMAs: See 9 Of Miley Cyrus' Skimpy And Insane Costumes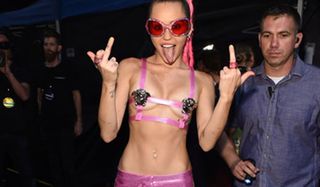 Anyone who is generally familiar with Miley Cyrus' VMA performances should know that she's a bit out there in terms of costumes and general personality. This year, however, MTV actually handed Miley Cyrus the mic and asked her to host the whole shindig, which led to numerous costume changes, some wilder than the last. We've gone ahead and compiled the most insane outfits and brought them to you so you can view them from the comfort of your home, without having to hear Nicki Minaj (or Kanye West) rant or stare at Bieber's haircut.
The Futuristic Outfit, With Sunglasses
It didn't take long for Cyrus to shed some layers, however. The singer soon popped up onstage wearing colorful dots linked together by plastic and little else. We've come to expect not a ton of coverage from the singer, but those glasses are outta this world. Plus, Jared Leto arm candy makes the look even more over-the-top.
The Face
Yes, those are eyes covering Miley Cyrus' upper half. While you can't see it from our quick snap, her skirt is in the shape of red lips. While wacky, the shape is pretty interesting. As Tim Gunn would say, Cyrus "makes it work."
The Barely There
Similar to the outfit Cyrus wore on the red carpet, this little gem of a look reminds us of what Leeloo wears in The Fifth Element. Only, we guess this costume change was a whole lot more expensive than the bandage look.
The Pajamas
We all know Miley Cyrus is fond of taking pot, and this year's VMAs featured a video starring Cyrus and Snoop Dogg. If you're going to eat pot brownies on TV, you might as well be comfy, I guess. Even more outrageous? That furry hairpiece.
Pink, With Animal Heads, Because Obviously
This look features pink hot pants, plus a barely-there harness that only covers her chest thanks to the addition of animal heads. Just to make it apparent that she's trying to look as ostentatious as possible, she also rocks out pink sunglasses and pink dreads, the latter of which are pretty sweet.
The Rainbow Box
This isn't an outfit. It's an architectural piece, for sure. In fact, we're pretty positive it's a rainbow ballot box. Vote Kanye West for 2020 (we wish we were kidding).
The Mirrored Pantsuit
These looks are getting more demure by the minute. At least she's flashy looking, here. Still, as far as pantsuits go, that one has to be the shiniest we've ever seen.
The Introductory Outfit
While Miley wore a barely-there costume on the red carpet at the 2015 VMAs, this was actually pretty tame in terms of coverage standards. Still, multi-colored sleeves and lots of bling make this one a standout.
The Performance Outfit
For her final look, Cyrus has a variety of materials going on, and we're pretty sure there's an eye image covering her right boob. No foam fingers, though. That's a little disappointing.
This poll is no longer available.
Photos Courtesy of MTV and Viacom
Amazing Race & Top Chef superfan with a pinch of Disney fairy dust thrown in. Theme park junkie. If you've created a rom-com I've probably watched it.
Your Daily Blend of Entertainment News
Thank you for signing up to CinemaBlend. You will receive a verification email shortly.
There was a problem. Please refresh the page and try again.