Mad Men Returns To Series High Ratings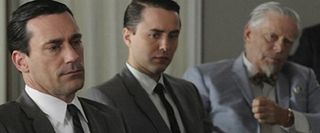 Mad Men returned last night, and it doesn't look like the long twenty month wait for Season 5 has hurt the show at all. If anything, it's doing even better than ever before. Mad Men's two-hour premiere marked the highest ratings the series has ever pulled. It seems Don Draper has still got it.
Deadline reports that last night's return averaged 3.5 million viewers and was up 20% from the premiere of season four. All of the demos were up – and not just up, but at series highs, including adults 25-54 which was up 17% from last season's premiere. Overall, 4.4 million people watched the premier including both the first airing and the second run later in the evening.
During the long wait for Mad Men to return, many people wondered if the fans would stick around and turn up for the premiere when it finally came around. The hiatus was a risk, but at the same time it allowed more viewers to discover the show via Netflix viewing, which brought in new fans that might not have discovered the show if not for the streaming option. The time allowed those new fans to be caught up and ready to go when season five finally arrived – and it seems likely that last night's numbers were bolstered by fans who came late to the show.
Mad Men as a series has defied the odds somewhat, being a character driven drama without any noticeable vampires (although I have always wondered about Betty) or explosions. The fans of the show are staunch for the most part, so I won't be surprised if Mad Men continues to draw strong numbers. We've got a complete rundown on last night's episode here.
Your Daily Blend of Entertainment News
Thank you for signing up to CinemaBlend. You will receive a verification email shortly.
There was a problem. Please refresh the page and try again.