10 New 2015 Shows That Could Be Awesome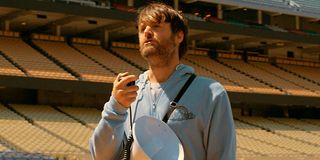 Trying to single out only ten new shows for people to keep an eye on in 2015 is like picking a ten story building's ten best bricks. But then again, so is trying to single out twenty or thirty in a television season as promising as this year. And besides, the bigger a list of recommendations like this gets, the more it starts to feel like homework. So. Here we are. And here are 10 new 2015 shows that you should keep an eye on. After all, there's a good chance they will be awesome.
10. Marvel's Agent Carter
Even though it probably deserves a better spot on the list, I'm going to get to Marvel's Agent Carter right away because it premieres tonight. Plus, it's never a bad idea to start this things off strong and the spin-off looks like it will provide plenty of bang (bang) for our collective buck. Created by Captain America writers Christopher Markus and Stephen McFeely (they wrote both The First Avenger and The Winter Soldier), the eight-episode series stars the wonderful Hayley Atwell as the eponymous Agent Peggy Carter, a role she dominated in the feature films and Marvel's most entertaining one-shot. Speaking of the one-shot, its director, Louis D'Esposito, shot the pilot and Joe Russo, one-half of the duo behind Captain America:The Winter Soldier, directed the second installment. Yep, ABC pulled out all the stops on this one. I didn't even get to the supporting cast that includes James D'Arcy, Shea Whigham and Dominic Cooper. The two-hour premiere is tonight (Tuesday, January 6th) at 8:00 p.m. ET on ABC.
9. Man Seeking Woman
Another promising new show with a premiere date approaching fast is FXX's Man Seeking Woman. Based on a collection of shorts called "The Last Girlfriend on Earth: And Other Love Stories," the comedy was created by humorist Simon Rich, a staff writer at both SNL and Pixar before he turned 30. And if those credentials aren't enough (he's now my nemesis), the new series stars Goon's Jay Baruchel as the titular 'Man' and features a solid ensemble that includes Eric André, Maya Erskine and Britt Lower. To top it off, MSW also has Portlandia's Jonathan Krisel directing every episode. Yes, you're going to want to turn to FXX on Wednesdays at 10:30 p.m. ET starting January 14.
8. Fresh Off the Boat
This one may be a bit of wishful thinking but I hope that ABC's Fresh Off the Boat is a series worth watching in 2015. Why is it wishful thinking? Well, the networks don't exactly have the strongest batting average when it comes to comedies; for every Brooklyn Nine-Nine there's a Dads. But I'm staying optimistic about the show set in the 90s about a family opening up a family-run restaurant (based on creator Eddie Huang's memoir of the same name) mostly because it stars The Interview's Kim Jong-un. Randall Park is so good in Seth Rogen and Evan Goldberg's film (and Veep) that I'm willing to give anything he's in a try. Fresh Off the Boat premieres Tuesday, February 10 at 8:00 p.m. ET on ABC.
7. Bloodline
I'm not going to lie, I don't know much about the plot of Bloodline. I'm not sure anybody does. But the ensemble is enough to get me very excited. The Netflix original drama about family secrets unearthed when the 'black sheep' returns home stars Kyle Chandler, Linda Cardellini and Ben Mendelsohn as well as Academy Award winner Sissy Spacek and nominee Sam Shepard. I feel like I need to stop for a second and state the obvious, that's Coach Taylor and Lindsay Weir in one series. And without an ounce of hyperbole, Mendelsohn may be the best actor in the world right now. I can't wait to see him as the aforementioned black sheep. I think that's his part. Bloodline was created by Todd A. Kessler, Daniel Zelman and Glenn Kessler, the minds behind Damages, and hits Netflix (opens in new tab) in March.
6. The Brink
The Brink is another one I don't know too much about but all the pieces in play make it stand out from the pack. Created by Roberto Benabib and Kim Benabib, HBO's "dark comedy about a geopolitical crisis" boasts big names like Tim Robbins and Jack Black, as well as great supporting players like Daily Show correspondent Aasif Mandvi (who will also be writing for the show). The cherry? Meet the Parents' Jay Roach is directing the pilot (written by the Benabib brothers) and the filmmaker has a stellar history with political material at Home Box Office having helmed both Recount and Game Change for the pay-cabler. If The Brink is even half a good as those (Emmy winning, made-for-TV) movies we're in for a treat. The half-hour comedy is coming to HBO in 2015.
5. Battle Creek
I'm going to cheat a little on this one. Instead of giving Breaking Bad creator (and now certified genius) Vince Gilligan two spots out of the ten, I made a Sophie's Choice and left Better Call Saul off the list entirely. Well, except the brief mention here. It doesn't need the hype and, to be honest, I'm a little worried about how it's going to turn out. Battle Creek, on the other hand, doesn't have the exposure that being the spin-off of one of the most beloved series of all-time brings, but it does have House's David Shore as co-creator alongside Gilligan, X-Men's Bryan Singer directing the pilot and 30 Rock's Dean Winters in the lead. Okay, co-lead with Josh Duhamel. There's also Janet McTeer and Kal Penn! And an actor named Grapevine playing a character called Detective Funkhauser! Battle Creek premieres on Sunday, March 1 at 10:00 p.m. ET on CBS (opens in new tab).
4. Unbreakable Kimmy Schmidt
All I needed to hear with Unbreakable Kimmy Schmidt was Tina Fey and I was on board. Fey is not only one of the funniest people on the planet but her previous project, is an all-time great when it comes to small-screen comedies. And speaking of 30 Rock, its showrunner, Robert Carlock, co-created the upcoming Netflix series with SNL compatriot. The always charming Ellie Kemper plays Kimmy Schmidt, the titular character who's starting life over in New York after fleeing from a doomsday cult. The show's supporting cast includes newcomers Tituss Burgess, Sara Chase and Lauren Adams as well as the great Jane Krakowski and Carol Kane in recurring roles. Originally developed for NBC, the apparently off-the-wall comedy ended up landing a two-season deal at Netflix. Look for Unbreakable Kimmy Schmidt sometime in March.
3. Westworld
I'm not going to lie, I haven't read Michael Crichton's book or seen the 1973 film (written and directed by the author) on which the new Westworld is based but I have seen The Simpson episode "Itchy & Scratchy Land" so I feel pretty much up to speed on the whole "futuristic amusement park at the dawn of artificial intelligence" thing. In all seriousness, I'm quite excited for the HBO adaptation from Jonathan Nolan and Lisa Joy for several reasons, starting with the former's science-fiction resume (Person of Interest and Interstellar) and ending with the latter's work on Pushing Daisies. Anyone who was part of Bryan Fuller's cancelled-too-soon series has a fan in me for life. And just to make sure you know Westworld is a prestige project from HBO, the ensemble assembled is also a cut above. It stars Anthony Hopkins, Evan Rachel Wood, James Marsden, Jeffrey Wright, Thandie Newton, Miranda Otto and Ed Harris, to name a few. Look for the sci-fi series on HBO in 2015.
2. The Last Man On Earth
If I'm being completely honest, The Last Man On Earth is the new show I'm most looking forward to in 2015. The comedy created by and starring Will Forte might as well have been made just for me. The ten episode season follows Forte's titular 'Man' (named Phil Miller) as he deals with being the only human alive in 2022. Forte alone on screen for half-hour at a time? Yes, please. He's still owed a Best Actor Oscar for Macgruber. LMOE's pilot was directed by The LEGO Movie and 21/22 Jump Street's Phil Lord and Christopher Miller whose last foray on the small-screen (they also directed the first episode of Brooklyn Nine-Nine) turned out to be my favorite comedy of 2013. Yep, everything Lord and Miller touch seems to turn to gold and Forte, who worked with them as far back as Clone High, clearly had the duo in mind when coming up with the conventional series. Remember his character's name? Jokesters. The Last Man On Earth has a special one-hour premiere on Sunday, March 1 at 9:00 p.m. ET on Fox.
1. Marvel's Daredevil
You see why The Last Man On Earth didn't make the number one spot? It's kind of hard not to give it to Daredevil and/or Marvel overall deal with Netflix which also includes A.K.A. Jessica Jones, Luke Cage and Iron Fist as well as a Defenders miniseries 'event' where they all crossover. Netflix hasn't been clear on when they are all set to debut, but we're definitely getting the Daredevil show this year. The small-screen adaptation of the Marvel comic-book character was developed by Cabin in the Woods' Drew Goddard, although he left Spartacus creator Steven DeKnight in charge after accepting the Sinister Six movie. Anyway, the charismatic Charlie Cox seems like a good fit for blind-lawyer Matt Murdock/the man without fear, Vincent D'Onofrio is a dream Kingpin and Deborah Ann Woll brings some much needed red hair as Karen Page. Oh, and having Rosario Dawson around never hurts. Daredevil hits Netflix (opens in new tab) in May.
Your Daily Blend of Entertainment News
Thank you for signing up to CinemaBlend. You will receive a verification email shortly.
There was a problem. Please refresh the page and try again.