Married Review: Latest Comedy From FX Is Too Exhausting To Be Funny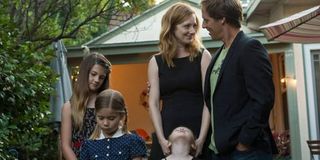 For a long time, FX has been a trailblazer in cable's original programming lineup, producing comedies and dramas that have attained enviable audiences and engrossed viewers, as well as well as produced attention-grabbing storylines. This week, the network is rolling out a new comedy, Married, about what happens to a couple after children, money troubles and stagnancy set in.
Andrew Gurland's new series stars Nat Faxon and Judy Greer, two comedic actors who have been around the block. Greer's a mainstay on another FX series, Archer, and has taken memorable roles in Arrested Development and Two and a Half Men. Faxon was the best part of the short-lived series Ben and Kate and memorably appears in The Way Way Back, which he co-wrote with The Descendants writing partner Jim Rash. Together, Greer and Faxon should make a credible and colorful TV couple. While Married offers plenty of the latter, it's lacking in the former.
Early plots revolve around hanging out with prostitutes, avoiding fixing a resume to stall returning to work, a lack of sex in the relationship, and money troubles leading to problems at the dentist's office. All of these things (except for the prostitutes) are feasible problems for an average marriage to have. However, Married attacks these with a stagnancy and a crassness that manages to make some of its funniest moments feel heartbreaking. While there's refreshingly no feel-good learning moments at the end of each of these segments, Greer's Lina Bowman and Faxon's Russ Bowman, are utterly, inexcusably exhausting, stuck in a rut and happy to be there.
It's Faxon's acquaintances and work buddies that occasionally bring a little cheer to Married. Parks and Recreation's Jenny Slate has toned down her schtick and manages some laughs, as does Russ' other friend, AJ (Bret Gelman).The two are equally as unhappy as Russ and Lina, but still manage to make the best of their punchline lives. She married a sugar daddy, had a kid and then realized the well was actually dry. He's well-to-do but divorced and lonely. They both fit the tone that FX should have and maybe were going for.
FX has learned over the years that comedy can be created without characters that are written and seen as honest or happy people. The "good" folks over at It's Always Sunny in Philadelphia always betray every single person around them for even momentary selfish gain. Over at The League, the "good 'ol boys" are absolute dicks to their pal Andre, using him like a verbal punchbag lined with penis jokes. Married could be filled with characters similar to Russ and Lina and could still be very funny. It's just Russ and Lina who don't work.
Once in a blue moon, Faxon's Russ gets in a throwaway line that will make audiences smile and will remind us why Faxon was assigned the role in the first place. Greer and Faxon are both excellent comedic actors; they just weren't given the right material with Married and their work suffers because of it. The first few episodes of a new program don't always set the stage for what is to come down the road. If Russ and Lina can manage a little motivation, maybe their frustrating and uncommunicative relationship can lead to real laughs down the road. Unfortunately, I'm not sure audiences will tune in long enough to see that happen.
Rating:
Reality TV fan with a pinch of Disney fairy dust thrown in. Theme park junkie. If you've created a rom-com I've probably watched it.
Your Daily Blend of Entertainment News
Thank you for signing up to CinemaBlend. You will receive a verification email shortly.
There was a problem. Please refresh the page and try again.