Mean Tweets Musical Edition: Watch Katy Perry, Britney Spears And More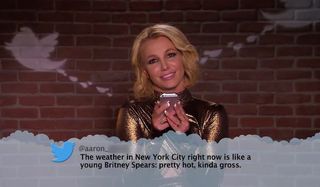 Jimmy Kimmel is one of the funniest comedians/television personalities on the small screen. Despite this, one of the late night hosts funniest ongoing bits doesn't include much of the multi-talented comedian, but rather takes the words of common folk like you and me from Twitter and has celebrities read them. Watch Katy Perry, Britney Spears and more get hit with some nasty words in the latest edition of "Mean Tweets", below. Keep in mind the video is NSFW due to strong language.
During this edition of "Mean Tweets", it seemed no musician was safe. The internet took shots at everyone from Pitbull to Wiz Khalifa, from Sia to Ariana Grande, from 5 Seconds of Summer to Haim. Everybody was a target but some got it worse than others, including Britney Spears, who took the jab comparing her to New York City weather the best she could (with a polite smile). Blake Shelton seemed to take being called a hillbilly (something he's been called dozens of times on the internet) in stride.
One of the more brutal "Mean Tweets" was saved for former Community star Donald Glover, who was told to perform a sexual act on himself. Glover, who raps under the stage name Childish Gambino, played off the insult with complete nonchalance. Katy Perry didn't get off any easier, with a tweet comparing the sound of her voice to a very uncomfortable experience.
Jimmy Kimmel Live!'s "Mean Tweets" does a phenomenal job of allowing people in the entertainment industry to poke fun at themselves, a hot commodity in our current times. The segment, which sees celebrities reading some of the meanest things people (mostly trolls) say about them on the internet, helps humanize them while still making us laugh. Luckily, this musical edition isn't the only time we have seen "Mean Tweets" in all of its glory. Catch other editions, here and here.
Check out Jimmy Kimmel Live!, airing Monday through Fridays on ABC at 11:35 p.m. ET.
Your Daily Blend of Entertainment News