Watch College Football Broadcasters Read Mean Tweets On Kimmel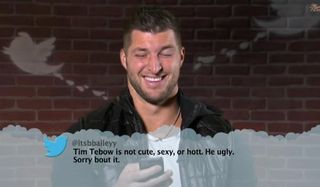 ABC late night host Jimmy Kimmel has been all over the College Football Playoffs. This week, he popped up at the College Football National Championship and had some famous sports figures "open themselves up to the horrors of the internet" and read mean tweets about themselves. Check out the amusing video, but keep in mind the video is NSFW due to some strong language. So, if your boss isn't down with f-bombs and porn cracks, save this one for later.
Honestly, some of these mean tweets are pretty bad, but they are nothing compared to the insults people have thrown at celebrities during the celebrity editions of "Mean Tweets." Yeah, some dude poked fun at Desmond Howard's mustache. Sure, someone asked Rece Davis to "suck a muffler," which is honestly a hateful comment. Still, most of these are more amusing and utterly ridiculous than absolutely hate-filled. Just check out what some Twitter user told 78 year-old analyst Lou Holtz.
I don't know about Daffy Duck, but Holtz has been known to be pretty incomprehensible.
Since most of the analysts are dudes, sideline reporter Heather Cox is basically the only person who gets an over-the-top and downright rude porn star crack, and Tim Tebow's the only guy who really gets intensely made fun of for his looks. But I love how much Tebow cracks up about the tweet. He may not have been the world's best quarterback, but he's certainly good at giggling.
Toward the end, Kirk Herbstreet throws out a "fuck you" to some weirdo that called him an "ass clown." I know he's messing around, but I don't think these football analysts have any idea how mean the "Mean Tweets" segment can be. Last time, for instance, Gwyneth Paltrow got called "You ugly ass big bird looking bitch" and poor Chloe Moretz was told she looked like someone's "asshole." In comparison, the mustache cracks and ass clown jokes are practically puritan in the College Football edition.
As part of Jimmy Kimmel Live!'s interaction with the College Football Playoffs, his team combed multiple games to come up with the best signs from the playoffs. If you have even more time to spare, we suggest you check out the semifinals for the "Lord Of The Poster Board" competition, and catch the ultimate winners, here.
Amazing Race & Top Chef superfan with a pinch of Disney fairy dust thrown in. If you've created a rom-com I've probably watched it.
Your Daily Blend of Entertainment News
Thank you for signing up to CinemaBlend. You will receive a verification email shortly.
There was a problem. Please refresh the page and try again.