Saturday Night Live: Watch The Voice Judges On Family Feud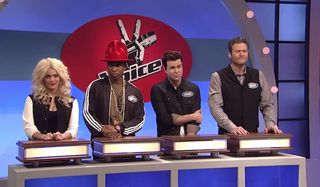 Last night Blake Shelton made his debut run on NBC's Saturday Night Live, playing not only host to the late night sketch comedy show, but also its musical guest. Among the many skits, was a welcome mashup of sorts (what else is new, right?) that brought the likes of three popular television shows together as one. Watch below as the cast of The Voice square off against the cast of American Idol in the confines of Family Feud the celebrity edition.
Kenan Thompson kicked things off as Family Feud host and SNL favorite Steve Harvey, an impression he's been perfecting for several years now. He broke into an opening monologue calling attention to his digs, which he called "the first suit made by Hennessey," complete with a hidden pocket, perfect for a "five ouncer."
He didn't waste anytime before announcing his guests; The Voice team, which was made up of Blake Shelton as himself, Adam Levine (Taran Killam), Pharrell Williams (Jay Pharoah) and Christina Aguilera (Cecily Strong)...
And their opponents the American Idol judges, made up of Keith Urban (Kate McKinnon), Nicky Minaj (Sasheer Zamata), Harry Connick, Jr. (Beck Bennett) and Steven Tyler (Kyle Mooney).
One of the skit's funniest moments had to be when Shelton faced off against Kate McKinnon's Keith Urban. The visual of the two of them sandwiching Thompson's Harvey was priceless as he proceeded to say Shelton looked like Urban if he ate one of those Super Mario Bros. Mushrooms. "Bla-gaga-bla-gaga-bla-gaga-blah!"
The highlights of a skit like this usually come from Thompson's line delivery, more than anything else. The majority of the impressions were fairly basic and expectedly generic, but the lines and phrases, again, usually the ones uttered by Thompson's Harvey, were almost always hilarious. Simple lines like his calling Shelton a "metrosexual lumberjack" and Levine a "sexy, slithery, soprano scarecrow" were both classic as was his response to Shelton's insistence that his music is played on the radio all the time. "Not in my neighborhood," said Harvey. Simple, yet so funny.
Saturday Night Live is gearing up for big things as this is the 40th anniversary of the NBC comedy show. They've already featured hosts Kevin Hart (The Wedding Ringer), and now The Voice's Blake Shelton, and are soon to see Academy Award-nominee J.K. Simmons (Whiplash) next weekend. They also have a primetime special planned for Feb. 15, 2015.
Check out new episodes of NBC's late night sketch series on Saturday nights at 11:30 p.m. ET.
Your Daily Blend of Entertainment News
Thank you for signing up to CinemaBlend. You will receive a verification email shortly.
There was a problem. Please refresh the page and try again.