Meredith Vieira Plans Daytime Talk Show For 2014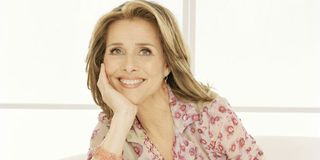 What does the world need more than a new talk show? Plenty of things, including a hole in the head, probably. But some people are inherently better at sitting on a couch and gabbing with strangers than others, and Meredith Vieira has been in television way too long not to know that she's one of them. The former Today show host has been bopping her way around the TV world since departing the morning show in 2011 (and causing a crazy shakeup in her absence), and now she's ready to commit to another show full time. THR reports that Vieira is returning to the NBC family and will launch her own nationally syndicated talk show in 2014.
The Meredith Vieira Show will be produced and distributed by NBCUniversal, but as usual with syndicated shows it could show up on another network in your local market. Here's what NBC Broadcasting Chairman had to say about the deal:
Vieira, like fellow former Today host and daytime competition Katie Couric, has the advantage of decades of name recognition going into the show. She got her start on local television in New York and Chicago, made her way to 60 Minutes and CBS Morning News, and spent nearly a decade on The View, acting as the level-headed moderator in the middle of what could be a fractious daytime gabfest (remember the Star Jones years? At least Vieira never let things get as crazy as the Rosie O'Donnell vs. Elisabeth Hasselbeck showdown). Though Vieira has more than enough hard news credentials, she'll be softening things up for daytime, even adopting a set that looks like her own home, complete with family photos. Here's what Vieira herself has to say about her goals for the show:
It's hard to say what Vieira might be able to do to set herself apart from the daytime pack, especially when big names like Anderson Cooper and even Couric herself haven't done as well in the format as expected (Steve Harvey currently rules the roost in this post-Oprah world). But like I said up top, Vieira has what it takes. Now we just need the audience to remember that and get on board when The Meredith Vieira Show arrives in 2014.
Staff Writer at CinemaBlend
Your Daily Blend of Entertainment News
Thank you for signing up to CinemaBlend. You will receive a verification email shortly.
There was a problem. Please refresh the page and try again.