NBC Reportedly Looking To Replace Today's Ann Curry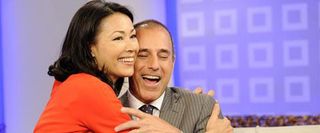 A few months ago, ABC's Good Morning, America made a breakthrough in the ratings, beating NBC's Today for the first time in 16 years. Of course, Today's Matt Lauer had to be on holiday and Katie Couric had to guest host on Good Morning, America to pull off this sort of win. Instead of taking the whole thing as a light fluke, however, NBC seems to be taking Good Morning, America's one week success as an indication something is wrong with the daytime programming.
Of course, NBC would not be totally off, if that's the case. In the year since Meredith Vieira left the peacock network, NBC has been a bit unhappy with Today's ratings and, especially, Ann Curry's performance. As it turns out, not even Lauer's charming smile can turn those executives' frowns upside down. Now, the New York Times is reporting Curry is about to be replaced on the hit daytime show.
Although NBC has plans to remove Curry from her current role, she will still be able to stick with the network, albeit in a different role. The Times noted Curry might use her sick prowess at discussing disaster news by moving into a foreign correspondent position at the network. Whatever she chooses to do will likely be a bummer compared to her current position, considering the 55–year-old is currently in her "dream job" with the network. Regardless, the woman is an expert journalist, and I am sure she will land on her feet.
NBC is expected to make an announcement before next month's summer Olympics commence, and we will keep you posted every step of the way.
Your Daily Blend of Entertainment News
Thank you for signing up to CinemaBlend. You will receive a verification email shortly.
There was a problem. Please refresh the page and try again.