Well, Minority Report Was A Huge Flop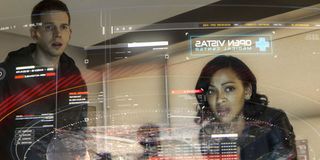 Although we've had a smattering of TV premieres earlier this month, last night officially kicked off premiere week. There were a slew of returning shows, as well as several new programs added to the lineup, and while most of these programs landed somewhere in the middle, ratings-wise, there was one show that hugely flopped. That show was Fox's brand new drama, Minority Report, which only managed to entice 3.1 million total viewers to tune in.
If Minority Report was a cable show, 3 million would likely be a respectable, although rather unremarkable, number--especially compared to the numbers that some of the other shows did last night. However, network TV spends a lot of money to get programs on the air, and because of this, more viewers need to earn advertising dollars to cover budgets. Because of its low audience, Minority Report's premiere did the lowest numbers of the night—and that's even considering that premiere episodes of TV shows tend to be a program's highest, as the numbers will settle lower in coming weeks when people decide which shows they will and won't stick with.
Along with only 3.1 million total viewers, Minority Report also only pulled in a 1.1. rating—the lowest of the night on Monday. To Fox's credit, however, the audience on the show must have skewed in the 18-49 demographic. For instance, ABC's Castle (7.1 million) and CBS' NCIS: Los Angeles (8 million) did way more total viewers than Minority Report, but still only ended up eking ahead in terms of the 18-49 rating—both shows nabbed a 1.2 rating. Still, Minority Report's debut was in all ways a flop.
Part of the problem may have been the Gotham lead-in, which also seems to have shed some of its audience between Season 1 and Season 2. Last night's big debut only brought in a 1.65 rating and 4.5 million total viewers. Variety is noting that's way down from last year's premiere, but also 15% down from the midseason average of the series.
While Minority Project did well in theaters when it came out more than a decade ago, sci fi programming hasn't had the best track record on Fox. While Fringe had a good run on the network, a lot of science fiction programming has gotten the axe after one season, including Almost Human, the also-expensive Terra Nova and—dare I say it--Firefly. The already-niche sci fi audience may just have decided giving Minority Report a shot was a lost cause.
Either way, the new network series starring Meagan Good and Stark Sands did not do well. Although I personally found the series to be tentatively positive in its first outing, it's hard to believe Minority Report will continue to do remotely acceptable numbers on the network. Will it be the first cancellation of the season? Maybe not. But I would be shocked if it made it over the long haul.
Reality TV fan with a pinch of Disney fairy dust thrown in. Theme park junkie. If you've created a rom-com I've probably watched it.
Your Daily Blend of Entertainment News
Thank you for signing up to CinemaBlend. You will receive a verification email shortly.
There was a problem. Please refresh the page and try again.