NBC May Start Streaming The Tonight Show And SNL For Cord Cutters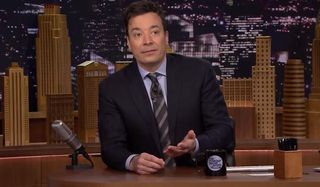 TV streaming platforms are popping up left and right. Today, HBO revealed the name of its new subscription streaming service, and not to be outdone, NBC also announced it has a subscription streaming service in the works. If it officially moves forward, the streaming service will be comedy-centric and may even feature new content that can't be accessed on regular TV.
So far, the new streaming service seems to be in the exploratory stages, with no official confirmation on any of the specifics. If it does move forward, though, it seems the price range for subscription would be extremely cheap. HBO Now plans to charge $15 bucks for its streaming service and CBS is already charging $5.99 for access to new and old programming, but the Wall Street Journal reports that NBC Universal is only looking to charge consumers between $2.50 and $3.50 each month for content.
NBC has a lengthy history of airing popular comedy programs, including late night fodder like Saturday Night Live and The Tonight Show, as well as primetime programming. NBC's recent comedy lineup includes shows like Parks and Recreation, while in its heyday NBC was responsible for such hits as Seinfeld, Will & Grace and Friends. The new report doesn't indicate whether or not NBC's new streaming platform would include an extensive backlog or only more recent programming. CBS, for instance, does offer both new and old programs, but the price tag is a bit higher than what NBC seems to be hoping to offer its service for.
Without further details (in terms of content), it's hard to tell how viable this would be. If new programming is the goal, the likely objective would be to entice viewers who don't have cable. However, a lot of NBC's comedies are already available for streaming on existing services, like Netflix and Hulu. If the channel plans to add older programming, like Diff'rent Strokes or Fresh Prince of Bel-Air, it might entice even some cable subscribers to shell out a couple of extra dollars for the additional content.
Clearly, the streaming service is in the early stages. The initial report also indicates that NBC Universal might do something similar with horror, faith and family programming. Exactly how viable any of it might be is still unclear. At this point, we have no idea if viewers would rather pay more money for an extensive catalog or get in as cheaply as possible. Someday, networks will start to figure it out, but right now, it's all in the trial and error phase.
We'll let you know if and when more details related to these streaming projects work.
Amazing Race & Top Chef superfan with a pinch of Disney fairy dust thrown in. If you've created a rom-com I've probably watched it.
Your Daily Blend of Entertainment News
Thank you for signing up to CinemaBlend. You will receive a verification email shortly.
There was a problem. Please refresh the page and try again.