NHL To Introduce Black Friday Hockey Showdown On NBC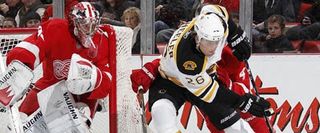 Who knew back in 2008, when the NHL started hosting the Winter Classic on New Year's Day, that lovers of the sport would make it a point to watch, whether or not they loved the teams involved. It was a gamble, but it paid off for the NHL. Last year, millions of people watched the Capitals beat the Penguins in an outdoor game. Now, the NHL is hoping to have created a similar event to play out on Thanksgiving weekend.
The NHL is partnering with Discover to bring the Discover NHL Thanksgiving Showdown into homes. The sport and credit card company will join up with NBC to bring the game into homes. This year, Discover and the NHL will also create and sponsor a Macy's Day Parade Float to get people into the hockey spirit. It sounds expensive, but Dave Lehanski, the NHL's vice president of integrated sales, says the Macy's Day parade will give the Discover NHL Thanksgiving Showdown some extra oomph.
.
If you were worried the NHL might try to take on football, don't be. A smart business group takes calculated risks, and airing the Discover NHL Thanksgiving Showdown on Thanksgiving Day would be a foolish risk. Instead, the Showdown will be played on Black Friday and will be NBC's first NHL coverage for the season. According to ESPN, the Black Friday game will be a matchup between the Boston Bruins and the Detroit Redwings. No matter who wins, I can't think of a better way to spend that Friday than to watch the Bruins physically pound on Detroit.
Your Daily Blend of Entertainment News
Thank you for signing up to CinemaBlend. You will receive a verification email shortly.
There was a problem. Please refresh the page and try again.