Netflix Loses 800,000 U.S. Subscribers In Third Quarter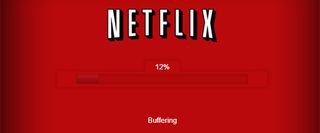 The bad news just keeps coming for Netflix. The past six months have been riddled with negative press, pissed-off customers, and just plain odd choices from the company that had become more or less synonymous with watching movies in your own home. They lost their deal with Starz, which cut deeply into Netflix's catalogue of recent movies available via streaming. They implemented a price hike that irritated many loyal customers. Netflix's CEO tried to counter the backlash with the announcement of Qwikster, which would split their DVDs-by-mail service off entirely from their streaming service. Needless to say, that just confused people and generated more controversy, causing the company to then backpedal and cancel Qwikster less than a month later. It would all be funny it wasn't so baffling.
Now the toll of these decisions is beginning to be tallied. Netflix announced its third-quarter numbers today, and they weren't good. THR says the online rental company has lost 800,000 U.S. subscribers during the third quarter, which is over 200,000 more than they were expecting. Those numbers didn't help Netflix's stock: it dropped $17. That's another rough hit for Netflix shares, which THR says have lost 60 percent of their value since July of this year.
This kind of hit shouldn't be too surprising even if you don't know much about the stock market. The Netflix backlash has been palpable online for the past few months, and Netflix has countered it with little more than sheepish apologies. It's a shame, too, because Netflix has added some excellent content during this time, especially on the TV front -- all of the Star Trek series, AMC's Breaking Bad and The Walking Dead, and the long-rumored The Wonder Years. However, if they're going to weather this storm they need more exciting content, and they need to find another partner to fill the gap that Starz's bailout will leave in their movie catalogue. Part of that recovery may hinge upon their expansion into original content production with their upcoming David Fincher/Kevin Spacey drama, House of Cards.
In the meantime, Netflix guys? If you think you've got a really awesome idea, I'd run it through a few people outside the company before you sign off on it.
Your Daily Blend of Entertainment News
Thank you for signing up to CinemaBlend. You will receive a verification email shortly.
There was a problem. Please refresh the page and try again.