Netflix Won't Save Terra Nova: Talks Have Ended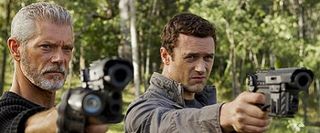 At least one hope for the revival of recently cancelled Terra Nova has been dashed. Netflix, which was considering picking up the expensive drama after it was cancelled by Fox, has decided to pass on the project, leaving it once again adrift without a home.
When Fox cancelled Terra Nova the show immediately started shopping other networks for a potential new home. The first name to come up as a serious contender was Netflix. The top name in streaming has recently been adding original programming and picked up another cancelled show, Arrested Development to bring it back to life after several years off the air. Still, it was a surprise to see such an incredibly pricey project being considered by a company new to the game. Unfortunately for Terra Nova fans, The Hollywood Reporter says the talks with Netflix are at an end, and they won't be picking it up.
Showrunners are still shopping the project, but the stars of the show are preparing to move on; several of them have already picked up new pilot roles. Christine Adams has signed on for the ABC drama Americana, Allison Miller has been cast in the NBC comedy Go On, and Jason O'Mara joined the untitled Ralph Lamb project at CBS. For now, all of these new roles are second to the existing Terra Nova contracts. Not that it will matter if the showrunners don't find a network willing to pick the series up, and since it comes with a hefty price tag it's going to be a tough sell.
Your Daily Blend of Entertainment News
Thank you for signing up to CinemaBlend. You will receive a verification email shortly.
There was a problem. Please refresh the page and try again.