The Office Watch: Season 8, Episode 4 - Garden Party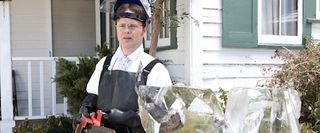 This is truly the season of Andy, and I mean that in the best way possible. Tonight's episode of The Office gave us a better look at who Andy is, as he was surrounded by his co-workers and his family for a good old-fashioned office garden party.
"Garden Party" took us away from the office and off to Schrute Farms, the magic beetopia that is the home to Dwight and his weird cousin Mos. Intent to top his brother's garden party, Andy invited the staff, Robert California, and his parents and brother out to Dwight's farm for sandwiches and toasts.
Andy's always been an insecure guy and tonight we were give some understanding of why he's constantly trying to prove himself to people. His younger brother, played by Josh Groban (brilliant casting choice) is clearly the favorite son. Tonight, Andy did everything to impress his father, even attempting to duplicate the musical experience his father and brother shared together. The lunch should have served the duel purpose of impressing Robert California as well as his parents, however Andy failed in both respects. Robert California is the kind of man who may be more impressed by Dwight's unique style of garden-party hosting than he is watching Andy duet to "More Than Words" with his father.
In the end, not only did Andy fail to impress anyone, but thanks to CeCe's baby monitor, the whole office heard Andy's father berating him. A lot of parents would be proud to know their son is the regional manager of an office. Sure, it's not the grandest of jobs, but it's an achievement beyond what many will accomplish in their careers. More importantly, Andy's happy with his job. He likes what he's doing. That alone is a huge accomplishment and something his father should be proud of.
After Andy's family left, the staff stayed behind to grill some burgers and cheer Andy up simply by including him.
Before we move on to the rest of the stuff, I want to point out one thing about Josh Groban's character that told us a lot about Andy. When Andy's brother met Jim, he responded by calling him "Tuna!," which is the nickname Andy has been using for Jim since Ed Helms first joined the show in Season 3. The automatic name recognition suggests that Andy talks about his work-friends to his family enough that they would remember their nicknames. It also suggests that aside from his old Cornell pals, Andy's coworkers are his friends. Much like it was for Michael Scott, Dunder Mifflin is Andy's life.
Phillip
Tension was heightened once again between Pam and Angela as both have decided to name their sons Phillip. Phillip was Pam's grandfather's name, and Phillip was one of Angela's cat's name. Of course, Pam's baby is due first, she she sort of has dibs on the name, however I'm thinking she should just let Angela have it, otherwise her and the senator's baby could end up being named Sprinkles.
Jim's Prank
Jim managed to trick Dwight into buying a fake book about hosting garden parties, which resulted in a lot weirdness on Dwight's part as he attempted to deliver proper etiquette to the event, including announcing everyone's names as they entered the party, and doing a dance with one of the caterers, not to mention the excellent torch-lit closing ceremony.
?While Dwight was busy trying to host the perfect garden party, Mos was parking the cars, serving as part-time valet, and part-time Evel Knievel. After lining up all of the cars, he set up a ramp and then ran up one side, jumped from car to car, and ran down the other side of the ramp.
Other stuff...
"Hey Andy, how about you don't steal my business strategies, and I won't dress like my life is just one long brunch." - Gabe, about Andy. Gabe spent the whole night trying to top Andy in his attempts to impress Robert California. He topped Andy in failing.
Kelly spent the whole night shivering, but no one would give her a coat.
Ryan's pipe.
"If the soil starts to get acidic, you've probably gone too far," Dwight, when giving directions on how to get to Schrute Farms.
?"They don't warn you when the cameras are driving by," Dwight, on the street-view photo taken for Google Earth:
Ryan toasts the troops. "All the troops. Both sides."
If Dwight offers you exotic meats for your birthday party hosted at Schrute Farms, there's a good chance you're eating goat.
Everyone referred to Stanley's girlfriend as his mistress, referencing the fact that he did start his relationship with her when he was still married. I don't think she's been his "mistress" for a while now. If I recall, Michael let that nurse out of the bag, exposing the relationship to Stanley's wife ages ago.
We never got confirmation on whether or not "Connecticut Casual" is "Pennsylvania Business."
Kelly joined CinemaBlend as a freelance TV news writer in 2006 and went on to serve as the site's TV Editor before moving over to other roles on the site. At present, she's an Assistant Managing Editor who spends much of her time brainstorming and editing feature content on the site.
Your Daily Blend of Entertainment News
Thank you for signing up to CinemaBlend. You will receive a verification email shortly.
There was a problem. Please refresh the page and try again.