After The Office: Where The Stars Are Headed Next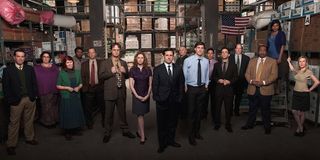 When a series has been on the air as long as The Office, it can be hard to imagine the stars doing anything else. But The Office is coming to an end, and the employees of Dunder Mifflin are headed back out on the job hunt. The series has already spawned several big stars who aren't hard to keep track of, but if you're wondering where you can see your other Office favorites in the future, here's a peek at life after The Office for some of the stars.
Steve Carell has already taken his career to new heights thanks in large part to his role on The Office, and Mindy Kaling moved on to launch her own new series The Mindy Project just this past fall. But those who have stuck it out to the end are just getting started on their next moves. Here's a look at what some of the stars of The Office plan to do next.
Rainn Wilson. Not long ago it looked like Wilson would get to keep right on playing Dwight Schrute on a spinoff called The Farm. Not so; NBC aired the pilot during The Office, but it won't go to series. Wilson recovered fast though; he's booked a drama role instead</> on CBS' Backstrom pilot.
John Krasinski. Already having popped up in a number of films, Krasinski will next be lending his voice to the animated film Monsters University, which is a prequel to Disney's huge hit Monsters, Inc.. He's also set to guest star on Netflix's new season of Arrested Development.
Jenna Fischer. The actress who plays Pam is setting her sights on the big screen. Fischer has already done a number of films, and she has two coming out this year. Kiss Me with Missi Pyle and You Are Here with Zach Galifianakis, Owen Wilson, and Amy Poehler.
Brian Baumgartner. Back in the fall we heard the Baumgartner was working on a new comedy project for ABC with Greg Daniels. We haven't heard anything more on it since, but if it doesn't go forward it seems like Baumgartner will find his way back onto TV, maybe in another Daniels project. Craig Robinson. Speaking of Greg Daniels projects, Craig Robinson is moving on to another one as well. He's starring in a still-untitled comedy as a music teacher, which incidentally is a former career of Robinson's. Jean Smart has signed on to co-star.
Angela Kinsey. Back in October, Fox picked up a comedy starring Kinsey and Rachael Harris, but since then the actress signed on for a different pilot. The Gabriels is also at Fox, and Kinsey is set to play a therapist.
Phyllis Smith. While there's no word on when we'll see her on the screen again, if you live in St. Louis you can see her live this summer. St. Louis Today reports that she has joined the cast of Nunsense Muny Style for a run this July.
Creed Bratton. It's back to audio for Creed Bratton. THR says the former musician is releasing an audio biography in three parts that will include music among the recordings.
Oscar Nunez. Nunez has signed on for a role in the comedy pilot Holding Patterns, where he'll be working with another Office alum, Nelson Franklin. He also has a TV movie on the way called The Education of Eddie and Mortimer.
As for the rest of the Dunder Mifflin crew, some have yet to announce their plans and others may well be headed for a much needed rest. We'll be sure to update you if and when they sign on for future projects. No need to worry - it seems pretty clear that there is definitely life after The Office ends on May 16th.
Your Daily Blend of Entertainment News
Thank you for signing up to CinemaBlend. You will receive a verification email shortly.
There was a problem. Please refresh the page and try again.