The Originals Pilot Review: A New Setting Leads To More Grown-Up Plotlines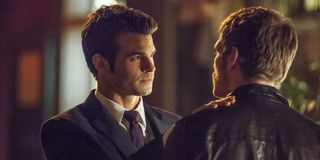 You can take the vampire out of the Quarter, but you can't take the Quarter out of the vampire. At least, that's what this week's The Vampire Diaries episode, which doubled as the backdoor pilot for a spinoff, The Originals, seems to want to prove. Klaus (Joseph Morgan) hasn't really spent time in the French Quarter of New Orleans for 100 years, but it's a city he built, and as soon as he steps foot in the city again, he gets embroiled in the city's charm, as well as its drama.
Backdoor pilots are primed for procedurals or even adventure dramas where two groups can team up. This couldn't really happen with The Originals pilot, with Klaus, Elijah (Daniel Gillies), and Hayley (Phoebe Tonkin) working with purpose in NOLA while Stefan (Paul Wesley) and the rest of the gang are stuck in Mystic Falls, Virginia. Additionally, there's a clunky transition between the main exposition and the reminder that even though it's a pilot, it's also an episode of TVD. We start with an introductory sequence in the Mystic Falls universe, where Elena and the guys celebrate Klaus leaving the community. Luckily, this doesn't last long, and we get the chance to really jump into the universe that will, with a little luck, be The Originals.
Early on, we meet Marcel, Klaus' progeny and the recent King of New Orleans. Charles Michael Davis' party-boy vampire Marcel is a cross between a true lunatic and a really bored vampire. He's fine with making decisions on a whim that have turned his city into a zone of fear. He needs to be stopped, but until then, I'm fine with watching him dance around and sing "How You Like Me Now" by The Heavy. He's a fun counterpart to Klaus' "Oh so serious" mentality, but he's every bit a villain and their battle of wills could get heated. Not only does Klaus hate the way Marcel is running things, he's also getting that itch that only egotistical assholes can get—he's affronted by what Marcel has turned his city into, and he wants to take it back.
Mostly the series takes the same fun, action packed storytelling route The Vampire Diaries prefers. However, the themes here run a little deeper. There's the start of a brand new feud between blood brothers and even an unexpected pregnancy, which are both more adult plotlines. There's a lot of minute stuff that may annoy avid TVD fans—everyone knows Klaus is a hybrid—but in order to put together a pilot garnering new audiences, the network had to get a little more specific, and mostly this works for the pilot, if it is a little tedious for those who have already decided to watch The Originals if it goes to series and who have been a fan of TVD.
Tonkin's Hayley doesn't have much to do in the pilot, but moving forward, it seems she'll have an increasing role in the project. You can look for spoiler alerts, elsewhere, but if you liked her character in TVD, I have a feeling she'll be present far more in the future, if there is one, and she's 'spawned' a mystery that should provide enough intrigue to last an entire first season.
The CW is expected to announce next season's TV lineup on May 16, and we'll let you know whether The Originals will move forward at the network.
Your Daily Blend of Entertainment News
Reality TV fan with a pinch of Disney fairy dust thrown in. Theme park junkie. If you've created a rom-com I've probably watched it.
Your Daily Blend of Entertainment News
Thank you for signing up to CinemaBlend. You will receive a verification email shortly.
There was a problem. Please refresh the page and try again.