Orphan Black Season 3 Promo: Mrs. S Is A Total Badass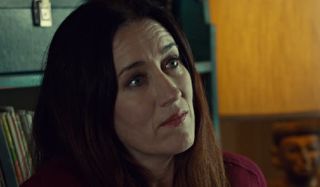 If last season of Orphan Black has taught us anything, it is that Mrs. S is certainly not one to be messed with. In case you need convincing of Mrs. S's total badassery, this latest promo for Orphan Black Season 3 should be all the convincing you need.
If you aren't caught up on Orphan Black, you might not want to read any further. There will be some spoilers ahead.
Can we all just take a moment to truly appreciate how much of a badass Mrs. S (also known as Siobhan Sadler) truly is? Though Orphan Black obviously centers around the four main clones( Sarah, Cosima, Allison, and Helena, all played by the amazingly perfect Tatiana Maslany), Mrs. S is an integral part of the story. More than that, Sarah wouldn't be the woman she is if it wasn't for Mrs. S's influence.
Sure, Sarah has had some bumps along the road as she grew up, as has Sarah's foster brother, Felix, but ultimately Mrs. S raised two kids who love one another, are smart, brave, and don't let weird religious cults or creepy geneticists push them around. What more could a foster mother ask from her foster son and a foster daughter who happens to be the product of some highly illegal genetic experimentation? She has certainly fared better than the other clone foster parent, Duncan (foster dad of pro-clone Rachel). In this face of his own daughter's evil pro-cloneness, Duncan ended his own life. So big thumbs up to Mrs. S there.
Of course, there are big questions on whether or not Mrs. S is good or bad. She may be a badass, but she is still super sketchy. Season 2 ended with the weapon-friendly matriarch turning Helena over to Paul. As Paul's men took Helena away, Mrs. S said, "She'll never forgive me for this," to which Paul responds, "You did what you had to." It's not entirely clear what she "had" to do, but it's safe to assume it had something to do with maintaining Kira's safety, as that is often priority one for Mrs. S. Even if she turns out to be a bad guy, you cannot ever doubt her devotion to Kira.
I cannot wait to see what Season 3 holds in store for Mrs. S and the rest of the Clone Club. Last season left us with some pretty giant questions. The biggest question is, of course, what the heck is going on with the male clones (products of Project CASTOR)? We've got the militarized male clones, the one guy that the is-she-evil-or-isn't-she Marian has locked away, and Marian is also raising one of the female clones as her daughter, so that's weird. Then there's ex-Prolethean Mark, who is now married to Gracie, another ex-Prolethean (who happens to be carrying Helena's baby...things are messy).
Beyond the Mrs. S and Paul team up, the male clones, and the questions of what exactly is up with the creepy Marian, we've also got to worry about poor Cosima. Proclone Rachel destroyed the first vial of Kira's bone marrow, and though they can harvest another sample, and Cosima was able to crack Duncan's genetic code, I'm still really concerned for Cosima's well being, but it will be some time before we figure out how that storyline pans out. Given our favorite surrogate mother is getting her own promo devoted to kicking ass and taking names, you can bet she'll be a major part of Season 3. There is no official release date, but Season 3 of the BBC America drama should hit the schedule in the Spring of 2015.
Your Daily Blend of Entertainment News
Thank you for signing up to CinemaBlend. You will receive a verification email shortly.
There was a problem. Please refresh the page and try again.