Parks And Recreation Gets Game of Thrones House Banners, Winter Is Coming To Pawnee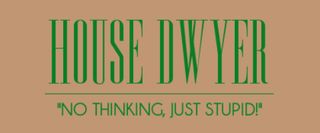 It's Friday. It is so, so close to the weekend (it may even be the weekend where you are) that it is definitely time for some more light-hearted fare. To preface and to be fair, almost all fan-generated content -- revamped trailers, mash-ups, memes, infographics, whatever -- is garbage. It really shows you why some people get paid to do these artistic complements and why others are doing them at home, alone, in their parents' basements. However, if you are going to create fan-art, at least pick a show that everyone loves…better yet, pick two.
That's exactly what The Smart Sandwich decided to do. Very much like our previously covered love for the Arrested Westeros website, it rubs us just the right way. The two shows in question are not at all similar, but that is what gives these poster mash-ups their charm. Despite the very different tones and subject matter, Parks and Recreation and Game of Thrones actually go together like pickles and gravy…wait. Peanut butter and jelly then. I love these two shows, and to make GoT "house banners" for the characters in P&R is simply genius and hilarious.
The artist behind these banners, posters, or whatever you want to call them included all of our favorite Pawneeans and came up with matching slogans for the houses. My favorite? A tie. Swanson's eggs-and-bacon-themed look with the motto "Rectangle. America. Megaphone. Monday. Butthole." And the sleek and simple House Haverford's DJ Roomba graphic with "Treat yo self" as his motto. They are all great. Here are four, and you can jump over to The Smart Sandwich to see the rest! Winter is coming to Pawnee.
Parks and Recreation airs Thursdays at 8:30 p.m. ET on NBC. It stars Amy Poehler, Nick Offerman, Aziz Ansari, Aubrey Plaza, Chris Pratt, Rashida Jones, Adam Scott, and Rob Lowe. Game of Thrones will return to HBO on evenings Sundays in April 2012. It stars (those who remain) Lena Headey, Emilia Clarke, Peter Dinklage, Nikolaj Coster-Waldau, and Kit Harington (and many more). It is based on George R.R. Martin's Song of Ice and Fire series and was adapted for television for D.B. Weiss and David Benioff.
Your Daily Blend of Entertainment News
Thank you for signing up to CinemaBlend. You will receive a verification email shortly.
There was a problem. Please refresh the page and try again.