Petals On The Wind Sequels If There Be Thorns And Seeds Of Yesterday Are Coming To Lifetime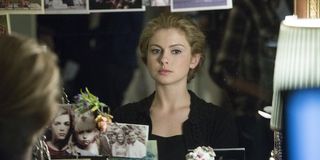 Lifetime aired their Flowers in the Attic followup Petals on the Wind last night, in all its steamy, fiery melodramatic glory. Is there more where that came from? It would appear so. Lifetime is developing not one but two more sequels to follow Petals on the Wind, based on the two novels that V.C. Andrews wrote to close out her series, If There Be Thorns and Seeds of Yesterday. Lifetime announced previously that they were developing the two sequels, along with V.C. Andrews' standalone novel My Sweet Audrina. And you can see the mention of the two Dollanganger followups in the trailer below:
That trailer says the two sequels are coming in 2015. That might not be the exact trailer that aired last night after Petals on the Wind wrapped up. Lifetime hasn't put that online yet, from what we've seen. Hopefully the network will offer some update on that situation in the near future.
Spoilers ahead if you're not caught up through Petals on the Wind!
For those who haven't read the books, If There Be Thorns switches perspectives for the first time in the series. Cathy narrates Flowers in the Attic and Petals on the Wind, but the narrative switches to Cathy's children Jory and Bart for the third book. Both are children, though Jory's fourteen. And at the start of the novel, neither know the truth about their parents. Jory knows his biological father is a famous ballet dancer who died, and Bart thinks his father is Paul Sheffield.
As you saw at the end of Petals on the Wind, following the fire at Foxworth Hall, Chris and Cathy have moved to California, where they are living together as a happy "perfect" couple and raising Bart and Jory together. The kids have no idea that their parents are brother and sister. Yeah, as if things couldn't get more dramatic, right? Corrine was last scene losing her mind in a mental ward.
Assuming Lifetime's planned movies aim to continue to follow the timeline set by Andrews' books, If There Be Thorns would focus on Jory and Bart's childhood, and then Seeds of Yesterday would focus on later years. I won't get into specifics there for those who haven't read the books, but expect even more drama on the horizon.
For those who have read the books, I'm curious about the general opinion of these adaptations so far. Andrews' Petals on the Wind covers so much territory that it's hard to imagine any movie managing to squeeze everything into the story. Lifetime's adaptation seemed to go out of its way to work as much of the book into the novel, and it still didn't get it all in there.
Paul was written out almost completely, and other aspects of the plot were abridged. I also felt like Bart and Cathy's relationship was altered a bit. In the book, it seems like Cathy has unintentionally fallen in love with him and he with her, but maybe there wasn't enough time for the movie to get to that because it seemed like neither were certain of their feelings for one another by the time the movie wrapped up. So, as a book fan, I can't help but nitpick a bit and wish that the movie had more time to flesh out the story and dig a bit deeper. The other option would have probably been to rewrite the sequel pretty much completely to simplify the plot enough to fit it into a TV movie. But fans probably wouldn't have appreciated that, even if it did result in a more structured and better paced film.
Either way, If There Be Thorns (opens in new tab) covered a much shorter timeline, so that should be a simpler adaptation. And hopefully they'll be able to bring Wyatt Nash, Rose McIver and Heather Graham back for that one.
This poll is no longer available.
Kelly joined CinemaBlend as a freelance TV news writer in 2006 and went on to serve as the site's TV Editor before moving over to other roles on the site. At present, she's an Assistant Managing Editor who spends much of her time brainstorming and editing feature content on the site.
Your Daily Blend of Entertainment News
Thank you for signing up to CinemaBlend. You will receive a verification email shortly.
There was a problem. Please refresh the page and try again.