Portlandia Season 2 Premiere: A Super-Spiked Mix Tape With A Side Of Cheesy Beefers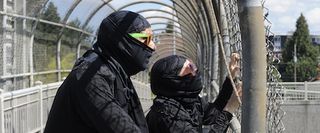 A-O river! Last night's premiere episode of IFC's Portlandia delivered the goods and a little something extra for fans of and newcomers to the comedy series. For a funny bit of bonus content, the Portlandia figured out a way for you to pickle that... sort of. And we have a few other tidbits from last night's episode that we thought we'd share.
Spoiler alert! If you haven't seen the episode yet, I recommend doing so before being spoiled!
We Can Pickle That
The Season 2 premiere had stars Fred Armisen and Carrie Brownstein playing pickle-crazy couple who claimed they could pickle anything. Well, Portlandia is now pickling websites through their amusing new site WeCanPickleThat.com. The site allows you to submit a link and it then redirects you to a pickled version of that site. The pickled version of Cinema Blend looks pretty tasty.
Moving on, Portlandia's sometimes even funnier on pause. Thanks to the beauty of the DVR, we found a few extra details worth mentioning in last night's episode that you might find amusing...
He mixed you a drink, now you mix him a tape.
A good portion of the episode has Armisen and Brownstein on a mission to deliver a drink-themed mix-tape to guest-star Andy Samberg, who was playing a mixologist in the episode. Here's the list of songs included on the tape. It may or may not be better than a remix of the Les Miserables soundtrack.
"Red Red Wine"
"Don't Come Home Drinkin'"
"Margaritaville"
"I Drink Alone"
"Bitches Brew"
"Gin & Juice"
"One Bourbon, 1 Scotch, 1 Beer"
"Boob Scotch"
"Ice Cube"
"Tonight The Bottle Let Me Down"
"Ice Tea"
"High & Dry"
"Tequila"
"Booty Juice - NWH"
"Have A Drink On Me"
"Drinkin' On My Mind"
"Ice Ice Baby"
"Myxomatosis"
Around The World In 80 Plates
On their quest to So-Cal, Brownstein and Armisen stopped in at a restaurant, only to be bombarded with options and alternatives in a never ending food-ordering experience. While the waiter said they could Breakfastize their entree by having it rolled up in an omelet, the menu's definition of "Breakfastize That" is "Make any menu item a breakfast item topped with eggs and porridge. 24/7! Just add $3.50." Gross. Grosser than having it "Super-spiked" (pouring Jack Daniels over everything).
Meanwhile, the small print on the Craig's Crazy Guac Tacs says, "Enjoy a chilled six pack of your favourite beer with friends as you snack on delicious guac made right here in North America." I suspect by the spelling of "favourite," "North America" might mean made in Canada, or maybe that's only applicable to the beer. Speaking of which... a six pack of beer? I wonder if we can double-down on that. Twice the amount of beer for twice the price? Also, do you think they'd allow us to lobsterate just the beer?
Moving on, here's the list of sides, not all of which were read by the waiter. My favorite is a three-way tie between Cheesy Beefers, Deep Fried Salad, and The Rachel.
Crispy Cheese
Duck Triangles
Buffalo Bombers
Cheese Boats
Potato Tornadoes
?Chicken Crusters
Beef Dingers
Deep Fried Salad
Crusty Chicken Crusters
The Rachel
Quadruple Dippers
Zing the Blues
The Perfect Egg Roll
Cheesy Beefers
Sorry but the "Crusty Chicken Crusters" just sound gross.
And finally, here's a behind-the-scenes look at Kath and Dave's A-O river scene...
Assistant Managing Editor
Kelly joined CinemaBlend as a freelance TV news writer in 2006 and went on to serve as the site's TV Editor before moving over to other roles on the site. At present, she's an Assistant Managing Editor who spends much of her time brainstorming and editing feature content on the site.
Your Daily Blend of Entertainment News
Thank you for signing up to CinemaBlend. You will receive a verification email shortly.
There was a problem. Please refresh the page and try again.