Project Runway Goes A Little Crazy With Marketing Efforts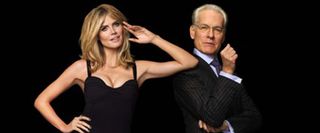 If you've been to an AMC movie theater lately, you've probably caught one of the Season 10 Project Runway commercials. That is, if you are not the type to show up late to a screenings. Those marketing efforts alone seem above and beyond that of an average season of the show, but as it turns out movie theaters are only the tip of the iceberg when it comes to marketing Season 10.
This year, Project Runway's marketing budget is bigger, faster, stronger, and better. The veteran fashion competition show wants to remain competitive and it is using some unique efforts to prove it is a mainstay on the network. According to THR, central to the new campaign will be a 20-foot-long art piece located on the High Line in Manhattan in New York between West 15th and 16th streets this week. The interactive piece will let fans walk down a red carpet runway, earning responses from virtual Project Runway mentors and judges, including Tim Gunn, Heidi Klum, Michael Kors, and the always-frowning Nina Garcia.
A second marketing endeavor will be a set of super trendy Project Runway photo booths dropped off in bigger cities including Chicago, Los Angeles, New York, and Boston. These are only the most bedazzling and interesting of the marketing promotions, which also include a partnership with Lord & Taylor and other random initiatives. Why all the fuss over a show that's been around season after season? Senior vp of marketing Tim Nolan has the answer.
Project Runway took a few critical potshots after barely-able-to-sew Anya won last season of the hit show, but the competition series has really hit its stride as far as Gunn's advice and the judging process goes, so a few criticisms is hardly something to worry over. Instead, with ratings going Lifetime's way a bit more in recent months, this seems to be a big effort for the network to simply stand behind its show.
Season 10 of Project Runway will air on Lifetime this Thursday at 9 p.m. ET, but don't worry too much about the time—unlike the runway, I'm sure there will be an encore performance.
Your Daily Blend of Entertainment News
Your Daily Blend of Entertainment News
Thank you for signing up to CinemaBlend. You will receive a verification email shortly.
There was a problem. Please refresh the page and try again.