Raising Hope: The Complete First Season DVD Review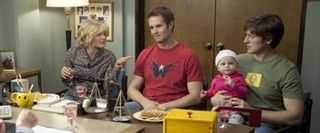 Raising Hope airs on FOX on Tuesday nights after Glee and New Girl. If you haven't caught it, yet, now is the time -- the show just recently started its second season and plenty of episodes are On Demand.
Creator Greg Garcia is fond of talking about working class people who get themselves into strange situations. His last program, My Name Is Earl, garnered laughs as a low-class character spent each episode making amends for a different wrong he had incurred in the past. Raising Hope follows suit, giving audiences a view into a world where a dysfunctional family raises a killer's baby, with some help from the outside community.
In Raising Hope, 23-year-old Jimmy Chance (Lucas Neff) wants to make a difference, but he's having trouble finding a purpose. He didn't go to college, he has a low-end job, and he lives with his parents and great-grandmother in a crappy house on the wrong side of town. One evening, Jimmy has sex in the back of a van with Lucy, a woman he doesn't know is a serial killer. The act seems to be another wreck on a dead-end road. However, months later, Jimmy finds out Lucy is knocked up and will soon be executed, giving Jimmy the chance to raise the kid.
This is all in the first episode. Enter Jimmy's parents, Bert and Virginia (Garret Dillahunt and Martha Plimpton). The couple had Jimmy at age 15 and are ready for him to get out of the house. With baby Hope on the horizon, the possibility seems less imminent. Though Bert and Virginia are not keen on the Hope development, in the end the plot hits a sweet final note, a trend that remains in subsequent episodes.
The family is supplemented by a cast fleshed out with some underachieving grocery store workers, a too-smart, joke-machine love interest (Shannon Woodward), and a homeless rollerblader who work to create the basic "it takes a village" setup inherent to Raising Hope.
In Raising Hope, anything goes to get a laugh. There are vomit jokes and topless grandma jokes and polygamy jokes and toilet jokes. If you've only ever caught five minutes of the program after Glee or The New Girl, it's likely you've wondered at the quality of Garcia's programming. If you actually sit down for an entire half hour and spend some time with Raising Hope's characters, you should come to the realization the show is startlingly, overwhelmingly clever. If you watch a few episodes, you should begin to see a pattern of smart callback jokes and cultural references (baba booey!). Like many of the best comedies, Raising Hope often weaves plotlines together that invariably collide and merge into one. The program may be about unmotivated people, but it is anything but unmotivated.
Of course, this is Season 1, and the first few episodes of Raising Hope aren't without problems. Cousin Mike is a little excessive. The See Dick and Jane intro has been known to raise neck hackles. The show is still figuring out how to balance Maw Maw's character. Luckily, Raising Hope is a series that learns as it goes. By episode seven, the intro is shortened, Cousin Mike is reduced to a guest character, and Maw Maw is lucid more frequently. Learning by trial is the best way to create a fine product and Raising Hope is in it to win it. There was talk FOX might cancel the show after its first season, but the network recognized what they had and are giving the show another go. Audiences should give it a go, too.
As far as the set goes, if you can catch Season 1 in a different forum, I would do so. You can order Season 1 on HD on Amazon, but as far as hard copies go, there are only DVDs. The special features are the obligatory ones; because of this, there aren't many extras to get excited about. There are a few cast segments, including one about the direction of the final episode. There's also a super-cute feature about the twins, Bailey and Riley, who play Hope in the series. Some deleted and extended scenes are included, which run the gamut from funny to pointless. Rounding out the extras is a silly gag reel. I did appreciate the disc layout, though. Since the show is short, it fits capably on three discs, including the bonus stuff. The details are fabulous, there are "Dick and Jane"-type drawings for each page on each disc, and the icon when you move through the menu is a pink baby rattle.
At one point, Martha Plimpton talks about how it is nice to be in the show's first season, where the writers' imaginations can run wild without any loose ends to be tied up. The first season of a show is an open forum for creating the backgrounds, behaviors, and consistencies of the characters. Season 1 has no rules, but Season 2 needs to abide by the rules laid out in Season 1. It will be interesting to see if, by the end of Season 2, Raising Hope will be able to tie up ends and work out as consistently as its first season. I have a lot of hope.
Length: 481 min.
Distributor: Twentieth Century Fox Home Entertainment
Release Date: 9/20/11
Starring: Lucas Neff, Martha Plimpton, Garrett Dillahunt, Shannon Woodward, Cloris Leachman
Directed by: Michael Fresco, Eyal Gordin, Randall Einhorn, Greg Garcia, Jace Alexander, Phil Traill, Rebecca Asher, Chris Koch, Dan Attias, Jerry Levine
Produced by: Michael Fresco, Greg Garcia
Written by: Greg Garcia, Ralph Greene, Don Coscino, Bobby Bowman, Mike Mariano, Liz Astrof, Elijah Aron, Jordan Young, Alex Kirschenbaum, Tim Stack, Matthew W. Thompson, Sean Conaway, Christine Zander
Your Daily Blend of Entertainment News
Thank you for signing up to CinemaBlend. You will receive a verification email shortly.
There was a problem. Please refresh the page and try again.