Red Band Society Review: New Hospital Drama Is Sweet But A Little Shallow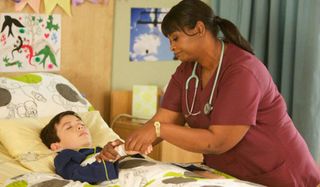 Red Band Society, the highly touted and youth-oriented new hospital drama about cancer and coma kids, is premiering this week on Fox. Previewing the pilot episode, we learn that the title stems from the red bands the kids are given when they embark on various and sometimes life-altering surgeries. It's a snappy concept—one that is lightly entertaining—and should find an audience in the coming weeks.
Taking a cue from The Fault in our Stars, Red Band Society is a hip, hopeful and knowing drama about sick teens living in a hospital ward. Fox gets the tone right with its new series, creating characters that are multi-faceted enough to pique the audience's interest. There's Kara (Zoe Levin), a bossy cheerleader who shows moments of emotional clarity. Into popping pills and taking drugs, she's low on the hospital's heart transplant list. Then there's wise-cracking Dash (Astro) whose trouble is with his lungs. Emma's (Ciara Bravo) a hard worker who finds eating to be her toughest battle, and Leo (Charlie Rowe) and Jordi (Nolan Sotillo) are both dealing with cancer. Adult actors Octavia Spencer and Dave Annable play the cool ward nurse and doctor, respectively, who feed tough love to the kids while also giving them a little autonomy over their own lives.
It's Spencer and Annable that keep Red Band Society from becoming too sentimental. While I appreciate that the cancer kids are plucky, the drama does delve into predictable but emotional tugs every now and again, with phrases like "luck isn't getting what you want, it's surviving what you don't want" vomiting out of the mouths of various characters several times during the pilot. The worst offender of this is Red Band Society's narrator, Charlie.
Charlie's (Griffin Gluck) the youngest person in the Red Band Society, a child who is feeding us intimate details about the other characters as he lies in his hospital bed in a coma. The show explains its choice to use the unusual narrative tactic by giving Charlie the line, "deal with it" to read before noting, "The thing about a coma is that you can hear everything, you just can't respond." Early on, we learn that Charlie appears to some of the other characters when they are passed out, suffering from their own health crises. It's an unlikeable device, but since Charlie's storyline is one of the most interesting—his father, having lost visitation rights, sneaks into the hospital as a volunteer to see his kid—it's fairly forgivable.
Red Band Society was created by Steven Spielberg's Amblin Television and was written by Margaret Nagle, who also wrote about health problems in the series Side Order of Life. Spielberg's TV narratives have often been epic in nature, with Terra Nova, Under The Dome and Falling Skies as recent endeavors. Red Band Society is much more down to Earth, filled with characters that are easy to watch and storylines that will hopefully become more compelling as the weeks wear on. In fact, since there are hospitals involved in the story, no doubt its tragic-ridden yet eternally optimistic story will need to grow more serious at some point.
Pilots are notoriously unreliable gauges of where a series is headed. Still, if Red Band Society stays solid or improves over the next few weeks, no doubt it will find a nice niche as part of Fox's schedule. It's entertaining and mostly offers the right level of emotional payoff for fans. Its characters are well-rounded and differ enough in age and interest level to bring viewers of different ages to the show. It's surprising but not groundbreaking, and that's probably just how Fox likes it.
Rating:
Red Band Society premieres on Fox on Wednesday, September 17 at 9 p.m. ET. For other fall network and cable premieres, check out our full fall premiere schedule.
Amazing Race & Top Chef superfan with a pinch of Disney fairy dust thrown in. Theme park junkie. If you've created a rom-com I've probably watched it.
Your Daily Blend of Entertainment News
Thank you for signing up to CinemaBlend. You will receive a verification email shortly.
There was a problem. Please refresh the page and try again.