Reese Witherspoon's TV Project Wendy & Peter Sold To Fox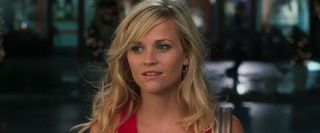 Fox has bought a project with one big name in particular attached. Reese Witherspoon is set to executive produce Wendy & Peter, a half-hour comedy with not-so-subtle Peter Pan references that will be written by Six Feet Under and United States of Tara writer Jill Soloway. Fox only recently bought the project, but with the names attached and Wendy & Peter's weird premise, it's future looks at least a little rosy.
According to Deadline, Wendy & Peter will follow Wendy, a single working mom who lands a gig as a housemom taking care of a bunch of "lost boys." In the project, the "lost boys" will be comprised of Peter, a kid genius who has made plenty of money in the technology industry, and a group of other youngsters who flock to spend time with the technological mastermind. Usually when I think of housemoms, I think of the woman who takes care of the needs of a college sorority or fraternity, but this seems like a far wackier endeavor.
Wendy & Peter is obviously less of a J.M. Barrie adaptation than it could be, but its characters seem like they will have some of the same characteristics as the literary characters with the same names. Despite Wendy & Peter hailing from Twentieth Century Fox TV, it hasn't even nabbed a pilot order at Fox, so the project is still in the very early development stages. However, with Witherspoon and Soloway executive producing, alongside Bruna Papandrea, Meghan Lyvers and Evelyn O'Neil, the project seems to be in pretty capable hands. We'll keep you posted if Wendy & Peter nabs a pilot order.
Your Daily Blend of Entertainment News
Thank you for signing up to CinemaBlend. You will receive a verification email shortly.
There was a problem. Please refresh the page and try again.