Remember When Emma Stone Sang I'm A Bitch On A VH1 Reality Show?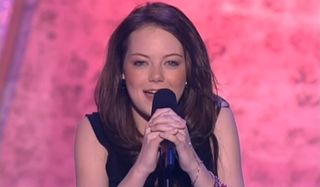 We all know Emma Stone as the adorable big-eyed, husky-voiced celebrity who always knows how to make us laugh, cry, and everything in between. She's the girl we'd all love to kick back and have a beer with, but she's also an incredibly talented actress that just scored a 2015 Oscar nomination for her stellar performance in Birdman. But does anyone remember where she got her start?
It seems like she has always been one of our favorite young stars. But, it turns out that Stone made her first television debut on a VH1 reality show. Don't believe me. I sure wouldn't. I have proof! Watch 16-year-old "Emily" Stone channel her teen angst as she sings Meredith Brooks' "Bitch" on VH1 reality competition, In Search of the Partridge Family:
Emma Stone, her stage name for Emily Stone, has won our hearts over and over again in films like Crazy, Stupid, Love, Easy A, The Help and Amazing Spiderman. And it all started on In Search of the Partridge Family, a VH1 reality series that was searching for people to star in a TV series called The New Partridge Family. Stone didn't go on to win a role on the aforementioned show, but she did get to show off her killer pipes, singing "Bitch".
But wait, there's more. Just to remind us of Stone's humble (and super cute) beginnings, here's another scene from the show. Watch Emma Stone in a duet rendition of Pat Benatar's "We Belong":
Stone doesn't regret her time on the show either, despite how silly the concept may seem. In an interview with Newsweek years ago, the young actress discussed her time on reality TV:
And oh how far the young actress has come. This year, her role as the troubled daughter, just out of rehab in the film Birdman scored her BAFTA, Golden Globe, and Academy Award nominations for Best Supporting Actress. And it's about damn time. What's most incredible about Stone is her growth. Her film debut was in 2007, as the quirky, hot girl in Superbad. But even in that film, she showed that she was much more than a young, attractive girl that could be in movies, and since then, she started grabbing bigger and better roles, rising to critically-acclaimed stardom.
The best part of it all though, is that she is completely humble about everything. She's seems to be the type that just loves her job, but isn't all up in your face about it. Her statement after receiving the Oscar nom proves how down-to-earth, but grateful she truly is. Will she win the Oscar? It will definitely be a tough competition, but she certainly deserves her recognition. We'll have to wait and see at the Academy Awards on February 22, and hope that if she does, her acceptance speech features some of this epic, teen angst singing skills.