Reruns Of Numb3rs, Law And Order: Criminal Intent Go To ION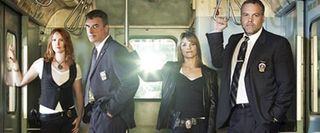 ION has a pretty extensive list of syndicated fodder on its network. I personally get sucked in with Criminal Minds reruns every now and again, but there are crime dramas galore to choose from on the cable channel, including Leverage and Cold Case. Now, two more crime dramas are being added to the network to round out a the world's strangest TV lineup, which also randomly includes the WWE Main Event.
On Tuesday, ION announced it had picked up the former CBS procedural Numb3rs to begin airing on the network during the upcoming season. Deadline first reported the news, also noting all six seasons of the show have been given the greenlight to air on the new network. So if David Krumholtz's new series, Partners, goes the way of The Playboy Club, at least fans will still be able to catch him in 118 episodes of reruns.
Today, ION added yet another program to its increasingly syndicated lineup. Law and Order: Criminal Intent will also begin airing in the upcoming season, as per Deadline. The only two things the new additions seem to have in common are their status as procedurals and the fact they both ran way longer than I seem to remember. ION picked up all six seasons of Numb3rs as well as all ten seasons of Law and Order: Criminal Intent to air. Although I can't say I mind the opportunity to watch these shows in reruns, a big part of me wishes they had nabbed Law and Order: SVU and not the one where they tell audiences whodunit right away.
Your Daily Blend of Entertainment News