Orange Is The New Black Season 4: What We Know So Far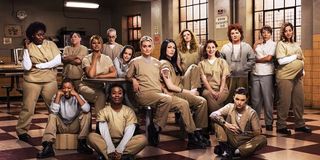 The 67th Annual Emmy Awards just came and went, and even though Orange is the New Black didn't make out as well as it did last year, Uzo "Crazy Eyes" Aduba managed to become the first woman in TV history – and the first person after Ed Asner – to win both Comedy and Drama Emmys for playing the same character. Will her streak continue next year and beyond? We don't know, but here's everything we do know about Season 4.
When Will Orange Is The New Black Season 4 Air?
Given that both Season 2 and Season 3 were released in June, it makes sense that Netflix would give Season 4 a June premiere date. Recently, the streaming service announced that Orange is the New Black will return on Friday, June 17 at 12:01 a.m. PT.
In addition, in February, Netflix also stated that the service gave Orange is the New Black a huge renewal order. And when we say huge, we mean huge. Along with Season 4, Orange is the New Black has been renewed for Seasons 5, 6 and 7, as well. Plus, showrunner Jenji Kohan is confirmed for each of those.
What Footage Have We Seen?
It's still quite some time away before we get any new episodes of Orange Is The New Black, but luckily, the series has released some actual Season 4 footage so far, timed with this year's Oscars ceremony. If you want to see some of the ramifications of breaking out of prison, you can check it out, below.
After months of waiting, the network finally put together a full trailer for Season 4, and it's about as weird and wonderful as you might imagine. Check out the full trailer for Season 4, below.
Where Did We Leave the Litchfield Personnel?
Caputo, who has been busy hate-banging Figueroa, is left between a rock and a hard place once he gets promoted after Danny Pearson finally had enough of his father's shit and quit. But while Caputo still feels the need to fight for his prisoners, he's currently not so able to do that. And when he tried to lay down the law to most of his guards and other employees, they walked out on him, seeing him more as the establishment than the co-worker he tried to appear to be earlier in the season. He's going to have some major problems as Season 4 begins, and due to the decision to put Sofia in the SHU to avoid making a big stink out of her attack, it's possible that she could file a lawsuit that would put the prison in a harsh public light.
As previously mentioned, Danny quit, and it's not clear if Mike Birbiglia will be returning for Season 4, though we can only hope so, as it was nice to see someone on the outside of the prison actually bringing morals to the table.
Healy's marriage is on the rocks, and neither he nor his wife are very happy with their current situation. And while he enjoys his job in that he's able to talk to Red on a regular basis, she eventually lets him know that they, too, aren't meant to have a future, and watching her tell him that was one of the more emotionally-driven scenes in this entire series.
Baxter never did get that handjob.
Where Did We Leave the Litchfield Prisoners?
Piper is still running her used panty business with her brother, although she's building up her funding anew. She is now something of a gangster in Litchfield, or at least she likes to think of herself as one. She totally ruined things with both Alex and Stella, though, so who knows where creator Jenji Kohan will take Piper's romantic heart in the future?
Sofia is still locked up in the SHU after experiencing an abusive hate crime, which occurred after her transsexuality was outed. If she ever gets out of there, you can bet that her and Gloria will continue to avoid seeing eye to eye. I'm hoping for huge fireworks next season.
Daya had her baby, but instead of it going to Pornstache's mom as was previously agreed, it went to the baby factor Cesar, who ended up getting arrested. It's not clear where the baby will end up after this, but we're hoping for the best, since Daya's mom is so harsh and weird about motherhood. I can't imagine what it must have felt like for Pornstache's mom to hear that the baby was dead.
Red has managed to get her kitchen back up to some kind of reputable level, especially now that she has a garden where vegetables can grow. That doesn't mean there isn't still inner turmoil, as well as slop for lunch, but she's content now. She even made temporary amends with Norma in the end.
Speaking of Norma, the mostly silent character had quite a run in Season 3, serving as both a religious leader and someone whose image made its way to a piece of toast. It was good to see her find happiness in different ways, but it's not clear if this has actually developed her any more. We'll have to wait and see.
Black Cindy is now officially a Jailbird Jew, having completely made the religious transition by the time the finale ended. What started off as kind of a goofy plotline to allow her to eat better food turned into a complete catharsis for her more than anyone else.
Let's run through the rest of these fairly quickly. After being raped by Coates, Pennsatucky reneges on her and Boo's "rape him with a broom" plan and fakes a seizure to get out of driving him around, and Boo loses her dildo as a part of Piper's plan to get Stella busted. Morello gets married and has vending machine sex with her new husband Vince. Crazy Eyes and Maureen got friendly in the lake, which may lead to a future romance. Soso survived her Benadryl overdose and is now a part of the group with Poussey, Taystee and the gals. And it turns out Lolly wasn't trying to do damage to Alex, as she's just basically a paranoid nutbag, though an enjoyable one.
What's In and Out for Season 4?
Part of Season 4 will see Litchfield facing even more problems – no surprise there – as the prison will find overpopulation as its newest obstacle. It might not have been a big deal had they just let everyone escape through the fence – which would have led to its own problems – but you can bet that Caputo will be even more stressed than normal. And that's not a good thing for anyone. But at least we'll get to see some new faces, many of which were stepping off of a bus as the finale ended.
Season 3 breakout star Ruby Rose may not be coming back to Orange is the New Black for Season 4, as her character Stella is no longer a part of the prison population. At least not Litchfield's, as she was taken away to maximum security prison. The actress isn't sure either, and definitely won't be in all of the episodes even if she does come back.
It's also not clear how much more of Natasha Lyonne's Nicky we'll be seeing, though the actress is definitely coming back. She spent a huge chunk of Season 3 gone after being caught hiding drugs, and her absence was a major bummer. We can expect her to have a few more enemies when she returns.
Someone else who is definitely returning for Season 4 is Laura Prepon's Alex Vause, as it was confirmed that her potentially deadly encounter with the henchman-turned-faux guard Aydin didn't end with her being offed. Her future will not be one of passivity though, as she will spend Season 4 always watching her back and trusting no one.
As far as new and developing characters go, both Lea "Big Boo" DeLaria and Jackie "Flaca" Cruz were both promoted to regulars, so we can probably expect them to step up on a more frequent basis. Under the Dome actress Jolene Purdy has been added to the cast for a non-disclosed role. Other new cast members include Brad William Henke, Mike Houston and Kelly Karbacz. We also know that Blair Brown's character, Judy King, will be back and in action in the prison, playing the Martha Stewart-type of celebrity chef. More details on that character, here.
Oh, and Caitlyn Jenner will almost certainly not be making an appearance on the show.
Stay tuned for more info on Orange is the New BlackOrange is the New Black Season 4 as it is released.
Your Daily Blend of Entertainment News
Assistant Managing Editor
Nick is a Cajun Country native, and is often asked why he doesn't sound like that's the case. His love for his wife and daughters is almost equaled by his love of gasp-for-breath laughter and gasp-for-breath horror. A lifetime spent in the vicinity of a television screen led to his current dream job, as well as his knowledge of too many TV themes and ad jingles.