Orange Is The New Black's Laverne Cox Has A New Show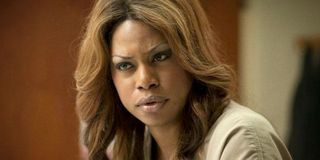 Laverne Cox has become one of the more dominant faces representing the incredibly popular Netflix series Orange is the New Black. The previous reality TV-star turned actress has brought light to the lack of transgender representation in television, and made history as the first openly transgender person to be nominated for a Primetime Emmy Award in the acting category. And beyond the strides she's made in LGBT awareness, Cox's acting chops have become increasingly impressive over the last two seasons of Orange is the New Black, so much so that other TV networks have noticed and the actress just scored a co-starring role in CBS Drama pilot Doubt.
According to TV Line, Cox will be playing the role of Cameron Wirth, a transgender attorney who is incredibly passionate about her job. She's Ivy League-educated, competitive and compassionate, but above all else, because of the first hand injustice she has personally experience, she fights even harder for her clients. This pilot could be an incredible opportunity for Cox to expand her career, and expand a powerful message about the transgender community. It was just recently done with Amazon Studio's latest Golden Globe-winning series Transparent which starred Jeffrey Tambor, a retired college professor who finally opens up about to her family that she has always identified as a woman. It's a powerful and emotional show, but what it does in pointing a realistic lense into what it is truly like to be put in a situation of coming out is what is really incredible.
Laverne Cox's role in Doubt could prove a similar stride, except instead of showing the process of coming out, expanding on the details of what it means to be transgender, after Cox experienced the injustice that the plot description references, and how that injustice affects her every day life. While Cox will have a major role in the show, the drama will revolve around another yet-to-be-cast smart and chic defense lawyer at a boutique firm who gets romantically involved with a client that may or may not be guilty of a brutal crime. It's an intriguing concept, that I really hope gets picked up into a series, as not only does Cox deserve another consistent role on a show, but it also is written/executive-produced by the husband-and-wife that brought us shows such as Grey's Anatomy and Madam Secretary, Tony Phelan and Joan Rater. I think we can all agree that we could use another show as addictive as ABC's Grey's Anatomy.
This show would be a step forward for Cox. Though she's seen some time on the small screen other than Orange is the New Black making guest appearances in Faking It, Girlfriends Guide to Divorce and an upcoming appearance on The Mindy Project, Doubt would mark her largest role to date.
Your Daily Blend of Entertainment News