See How Perfect Adrienne Palicki Looks As Mockingbird in Agents Of S.H.I.E.L.D.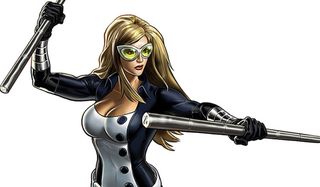 Last night, Adrienne Palicki debuted as Bobbi Morse on Agents of S.H.I.E.L.D. and make quite a first impression (more on that later). As comic book fans know, Morse's codename is Mockingbird, and now we have our first look at Morse's Mockingbird look for future episodes of the series, along with her hair being its trademark blonde. Suffice it to say, Palicki looks amazing in the costume. Check it out!
Spoilers for last night's Agents of S.H.I.E.L.D. ahead. You may want to stop reading if you haven't caught this week's episode.
See? She's obviously rocking it! Described as a "tactical outfit," Morse will don her new duds in next week's episode, which will also feature the premiere of the first Avengers: Age of Ultron trailer. Costume designer Ann Foley said that she made sure to keep elements of Mockingbird's comic book costume when combining it with the "practicality" of the a real world tactical suit. Marvel also posted concept art of the Mockingbird outfit, and although the costume isn't the navy blue and white look that Morse wears in the comics, Foley explained why she went in a different direction for TV.
Until yesterday's episode, Marvel and ABC were keeping Bobbi Morse's true allegiances ambiguous. Making her the head of Hydra security was an unusual turn of events, and it didn't help that her brown hair and red coat separated her visually from her comic book counterpart. Fortunately, she was soon outed as one of the good guys when she helped Agent Jemma Simmons escape the Hydra facility where they were both undercover. However, the real shocker came when she reunited with her S.H.I.E.L.D. colleagues, and viewers discovered that she is the ex-wife of agent Lance Hunter. Yes, the "she-devil" woman he's been bad-mouthing these past episodes will be working with him on covert missions. Talk about awkward.
As stated earlier, Palicki looks awesome in the suit, but while appearance is important, we'll have to wait and see if Morse will still be able to kick bad guy ass while wearing it on Agents of S.H.I.E.L.D.. It doesn't look quite as tight as the outfit Scarlet Johansson wears as Black Widow, but it wouldn't be good if it was too constricting. At least she'll still be wielding her trademark batons, which she used last night to take out a few Hydra agents. Like Black Widow with her stinger gauntlets, Mockingbird is extremely effective with those blunt weapons.
Connoisseur of Marvel, DC, Star Wars, John Wick, MonsterVerse and Doctor Who lore. He's aware he looks like Harry Potter and Clark Kent.
Your Daily Blend of Entertainment News
Thank you for signing up to CinemaBlend. You will receive a verification email shortly.
There was a problem. Please refresh the page and try again.