A Shameless Christmas Carol Plus The Gallaghers' New Year's Resolutions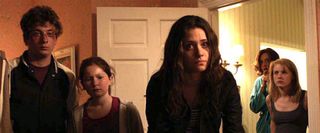 It is the holiday season. The perfect time to get together with your family and have a few laughs and a few drinks. However, when you're a Gallagher those few drinks can (or will) quickly turn into a few too many and the laughs will soon turn to tears (or, to be fair, sometimes bigger laughs). Showtime's first family would definitely have a Christmas worth watching but instead they gave us the next best thing, Shameless season's greetings from the Gallaghers.
In the first holiday themed video, the Gallaghers (and friends) break into song while gathered at Frank's bar for a festive Christmas (and in true Gallagher fashion, we're bringing this first message to you a little bit late... don't worry, it's still good). And guess what? The lyrics are included below so you can sing along. Just make you grab a beer, a smoke and a santa cap before you join the fun. It's actually a pretty funny and well written song and it should come as no surprise that the talented cast can also sing (Rossum was Christine in Joel Schumacher's The Phantom of the Opera).
The second video is a little more timely. The new year is approaching so, like every other lying resolutionist, the Gallagher's are making a few New Year's resolutions of their own. Of course, everything each of the characters (the video is focussed primarily on Lip, Ian, Fiona and, last but not least, Frank) say is blatantly NOT going to happen. In fact, you can pretty much expect the opposite. Lip will keep getting in fights and scamming people. Ian will continue to seek married men. Fiona's going to date some Mr. Wrongs, Frank is definitely going to keep drinking and they all will smoke like chimneys. Happy New Year! Oh, and speaking of the new year, you can catch up on the first season of Shameless with the New Year's Day marathon on Showtime or the newly released DVD / Blu-Ray.
Shameless returns for Season 2 on Sunday, January 8 at 9 p.m. ET on Showtime. It stars William H. Macy, Emmy Rossum and Justin Chatwin.
Your Daily Blend of Entertainment News
Thank you for signing up to CinemaBlend. You will receive a verification email shortly.
There was a problem. Please refresh the page and try again.