Shaq Will Prank Friends And Watch Viral Videos In New Tru TV Show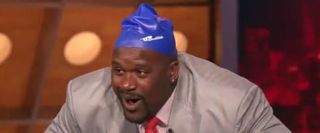 For many years during the NBA offseason, Shaquille O'Neal did not take his downtime lightly. One summer, he got into television, creating Shaq's Big Challenge, a show that dealt with teaching morbidly obese children how to live a healthy lifestyle. Though the show only lasted one season, it did prove Shaq is affable enough for the small screen. Subsequently, the tall basketball player starred in Shaq Vs. and scored a position on Inside the NBA, and now the retired player has put together a brand new TV premise for fans.
O'Neal's most recent endeavor has found a spot on Tru TV amongst other fodder like Hardcore Pawn and Operation Repo. The upcoming show, called Upload with Shaquille O'Neal will feature the former NBA player as he comes up with pranks and looks at funny videos on the Internet. According to Deadline, 10 episodes of the series are set to be produced.
In case you were worried about Shaq's ability to be extremely funny on camera, the 40-year-old will be joined by two comedians, Godfrey and Gary Owen, as well as a special guest each episode. The goal of Upload will be for the men to talk about stuff going on in pop culture, including viral videos and to share their takes on those things with the audience. There will also be a little Punk'd in the plot, with practical jokes being pulled.
Honestly, the plot seems pretty loose and more of an excuse to get several funny, fun-loving guys in a room together to have a good time than to produce awesome fodder a ton of people will be willing to watch. If you're a Shaq fan that may be a good excuse to tune in, but otherwise, Upload seems like the type of show the rest of us won't feel bad about avoiding.
Your Daily Blend of Entertainment News