Sharknado 2 Hooks Kelly Osbourne, Judah Friedlander, Vivica A. Fox, And More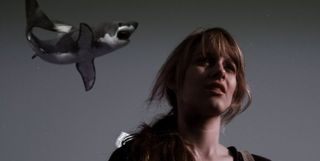 After the high-flying antics and unexpected, whirlwind success of the first Sharknado film, it's no surprise that Syfy was able to secure some bigger, more outlandish names to join the cast of its sequel, Sharknado 2: The Second One. The network and Sharknado production company, The Asylum, announced a bevy of stars set to join the rollicking and ridiculous sequel, including Kelly Osbourne, Judd Hirsch, Andy Dick, Judah Friedlander, Vivica A. Fox and Mark McGrath.
If you'll remember from the original set-up, a freak hurricane has hit Los Angeles, causing a bevy of man-eating sharks to be unleashed on the streets of L.A., with no one but Finley 'Fin' Shepherd (played by Ian Ziering) to save them. In the follow-up, the storm will switch coasts, heading to New York, and unleashing a giant Sharknado onto the heady (and heavily populated) streets of the Big Apple.
And we all know what that means: there are going to be sharks everywhere. Taking over the Brooklyn Bridge, flying high above the Statue of Liberty, barreling down Broadway, and probably even somehow taking the subway. If these tornado-based sharks are smart they'll just take the D train down to Coney Island and set themselves free.
Both Ziering and his co-star, Tara Reid (who played April Wexler) will return for the sequel — likely because who else would have enough experience with shark-laden weather patterns to save a mega metropolis like the island of Manhattan? But on their sojourn in New York, they will come across the aforementioned cast of characters.
First up is Vivica A. Fox, a longtime, high school-era friend of Fin named Skye. Mark McGrath (yes, that Mark McGrath of late 90s pop/rock band Sugar Ray fame) will play Fin's brother-in-law, which, we assume, means he's the brother of Reid's character April. (Because, let's be real, trouble in that paradise would be heart-wrenching.)
The rest of the cast breakdown is as follows: Osbourne will portray a flight attendant; Dick will play a New York City police officer (because that's wholly believable); Friedlander will play a character named Brian, and Hirsch will portray a cab drive named Ben. Appropriately in his wheelhouse considering his time on the series Taxi.
The premise of the sequel closely follows the set-up of the original, wherein surfer and bar-owner Fin, along with his friends Baz and Nova, set out to rescue his estranged wife April and teenage daughter Claudia from the storm of sharks and sea water. The group utilize the flying skills of Fin and April's other kid, Mark, to drop bombs on the sharknadoes in order to thwart the threat of flying marine life. meets up with Matt (Chuck Hittinger), the adult son of Fin and April, who is in flying school. They decide to try to stop the threat of the incoming "sharknadoes" by tossing bombs into them from a helicopter. We won't tell you how it ends, but it is truly a rip-roaring time.
Anthony C. Ferrante will return to direct the screenplay of returning writer Thunder Leving because only someone with that name could come up with a concept this outrageous.
Sharknado 2, which is slated to shoot in New York City starting next week, is scheduled to premiere on Syfy in July 2014.
Your Daily Blend of Entertainment News