Sharknado Sequel Officially Titled Sharknado 2: The Second One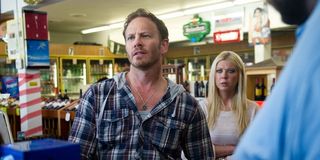 If ever there was a TV movie that's garnered plenty of buzz through social networking, it's Syfy's Sharknado, one of the cable channel's many original movies. That buzz, which came in the form of a flurry of Tweets submitted during the film's original broadcast, didn't exactly translate to huge ratings, but the film earned itself a sequel and a lot of attention regardless. And now that sequel has a title, which was fittingly selected from thousands of suggested titles submitted through Twitter. And the sequel title is: Sharknado 2: The Second One. As in second Sharknado, not to be confused with the first one? I guess so.
In the official announcement for the sequel's title, Thomas Vitale, Executive Vice President of Programming and Original Movies at Syfy, noted the role Twitter played in the success of the first film when deciding to use the social networking site to find a name for the sequel:
Syfy's announcement says they reviewed more than 5,000 Twitter submissions for the title contest and Sharknado 2: The Second One is what they settled on. Not exactly the most exciting title, but the word "sharknado" was probably always going to sell it anyway, right?
Produced by The Asylum, the second Sharknado movie has been confirmed to take place in New York City, where there will presumably be another shark-infested storm sweeping the coast. We have to face reality here, people. If there's any chance that a storm full of sharks could tear its way through Los Angeles, it seems reasonable to suggest that such an event could happen on the East Coast as well, right? Let's say that it does, and it's happening in Sharknado 2: The Second One, the now officially titled sequel to the Syfy original movie that debuted less than a month ago and took Twitter by shark-swarmed storm.
Let's all pause for a second and watch the heroic act of Ian Ziering's character Fin, who faces off with a shark, armed with only a chainsaw and his intense moxie.
Steve Sanders: 1, Shark: 0.
Syfy plans to have Sharknado 2: The Second One ready to air July 2014, a year after the broadcast of the original film. In the meantime, Syfy's not wasting much time getting the first film out on DVD. Sharknado will be available on DVD and Blu-ray September 3.
Here's another clip from the film.