Is Sharon Osbourne Leaving America's Got Talent?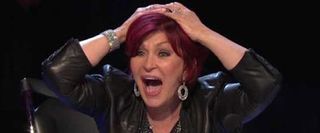 2012 has been a big year for shakeups on high-profile reality competition shows. The X Factor saw two of its judges and its host replaced for Season 2 and American Idol's judge situation continues to change (the latest: Steven Tyler is confirmed-out, Mariah Carey confirmed-in). NBC is also not immune: after cast shakeups brought Howard Stern on board this season, it seemed we had a winning judging panel, at least if we are disregarding the fact Stern will probably only stick around for one year. Even worse, now we may be losing America's most fiery redhead, too.
Earlier today, Sharon Osbourne was having a nice fireside Twitter chat with Howard Stern about America's Got Talent when she made a pointed comment that could potentially be bad news for the peacock network.
The opinionated judge left out the second half of her sentence, but if I had to form a guess I would say if she does decide to leave, it has something to do with the grueling schedule of the show and the fact Osbourne is now a devoted grandmother. Regardless, Deadline is reporting the reality judge still has three years left on her contract and it would be extremely surprising if NBC would just let her go. The woman is one of the best judges I have ever seen, female or no, on any of these sorts of shows. She has a rational perspective and the right combination of a no-nonsense attitude mixed with a little empathy.
Because Osbourne is also a host on The Talk, she is extremely busy, but I hope she sticks it out until the end of her contract, if for no other reason than the fact America's Got Talent has not dipped at all in quality since its inception and I would argue a good chunk of that is due to her.