When Sheldon And Amy Will Have Sex On The Big Bang Theory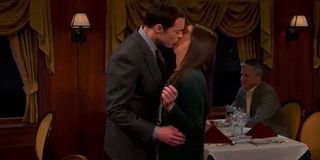 This season of The Big Bang Theory has featured a lot of frustrations regarding the relationship—or lack thereof—between Sheldon and Amy. Both attempted to move on in a recent episode, but the experiment didn't work out as easily as expected for either character. This week, The Big Bang Theory just came out and announced that Sheldon will finally seal the deal with Amy. After years of sexual frustration from Amy's end, the two are finally going to have sex during the December 17 episode, which also conveniently doubles as the big Bob Newhart episode.
Yeah, we're shocked. Not just that bedroom shenanigans are finally going to happen, but that showrunner Steve Molaro and CBS straight-up admitted it was coming a month ahead of time. I guess I shouldn't be. This move is akin to the time Molaro told us that Penny and Leonard would definitely tie the knot well before the Season 9 premiere. But here's exactly what Molaro has to say about the upcoming episode:
Honestly, that quote's a little hilarious. Shamy haven't exactly been dating for five years, as we've just watched them spend the last several months apart. And while I'm not a prude and am all for people getting it on, I'm not sure that sleeping together while in the middle of a break-up will really do much to help the situation in the longterm. Unless... Unless, CBS plans to get the couple back together before then.
Still, regarding that, we have a little more info. The CBS release also notes that Sheldon and Amy "might" (their italics not mine) be on the cusp of a breakthrough, which makes it sound as if the couple will not be totally back on track at that point. Still, there are several episodes set to air between now and December 17, including one on Thursday night. A lot could happen in that time.
Whatever does happen, Sheldon's sexual awakening with Amy is kind-of a big deal. While Sheldon has dated on the series, he's notorious for never having been sexually intimate. He'd only be willing to go the extra mile sexually for someone he really cares about, and as we already know, he cares about Amy enough to keep an engagement ring for her, so why not please her in other ways, as well? We know The Big Bang Theory is milking this plot for all it is worth, but I'm already invested in it—and the ratings show others are too—so it seems to be a plan that's been working for the CBS comedy.
Following several Monday airdates, CBS' (opens in new tab) The Big Bang Theory has moved back to its regular night. Catch it on Thursdays at 8 p.m. ET.
Reality TV fan with a pinch of Disney fairy dust thrown in. Theme park junkie. If you've created a rom-com I've probably watched it.
Your Daily Blend of Entertainment News
Thank you for signing up to CinemaBlend. You will receive a verification email shortly.
There was a problem. Please refresh the page and try again.