Smallville's Erica Durance Guest Stars On Charlie's Angels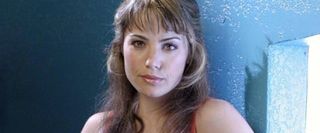 Before jumping into this brand new guest starring news, it's worth taking a short trip down memory lane. A very short trip. With Smallville ending this year, there are going to be a lot of unemployed, good-looking young actors on the prowl for another job and, case-in-point, yesterday we announced that cast member Cassidy Freeman is going to work at (opens in new tab)The Playboy Club (opens in new tab). Well, it seems that Lois Lane, Erica Durance, has also found herself a guest spot on a brand new series.
The creative team behind the new Charlie's Angels TV series is oddly familiar for those good-looking young and unemployed actors we mentioned above since Al Gough and Miles Millar were the co-creators and showrunners of the hit CW series about the adolescent years of one of America's most iconic characters. Well, Gough and Millar seem content with working with some of the same stars since TVLine (opens in new tab) just announced that, "Erica Durance - whom Gough cast as Lois Lane during his and Miles Millar's lordship over Smallville - will guest on ABC's new Angels."
The role finds Durance playing CIA operative Samantha Masters and a possible love interest for Bosley, who's played by Ramon Rodriguez. The article dug up an old quote of Durance's that seems pretty prophetic for her landing this gig as she sums up her future acting dreams saying, "I just want to kick ass and take numbers! We'll see if I get the chance." Well, the chance has come with her guest spot scheduled for sometime in October. She's a pretty busy girl, post-Smallville, also having shot a pilot for a new Canadian TV series called Saving Hope (opens in new tab).
Charlie's Angels premieres on ABC, Thursday, Sept. 22 at 8.pm.
Your Daily Blend of Entertainment News
Thank you for signing up to CinemaBlend. You will receive a verification email shortly.
There was a problem. Please refresh the page and try again.