Smallville's Erica Durance Cast in Canadian TV Pilot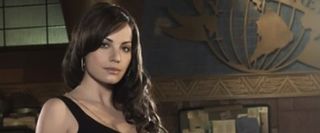 It happened people. Smallville is no more. It's time for everyone to move on... So what do Clark and Lois do now? Well, we haven't heard much about what's coming up for Tom 'Teen-to-Man of Steel' Welling (despite fan-people outcry for him to reprise the super-role in Zack Snyder's Man of Steel) but it seems like Erica Durance has found her next project. And it's back to the Canadian small screen for the native Albertan.
Zap2It (opens in new tab) reports that the former Lois Lane has landed the lead of doctor Alyse Joy for the CTV pilot Saving Hope (negative points already for the painfully generic title). Say what you will about Canadian TV (not too harsh, I am Canadian after all) but a few shows of late have been making the jump to the big league, one being Rookie Blue which happens to be the last show from Saving Hope's executive producer Ilana Frank. So, once they change that awful title, this one could have a shot and prove a great post-Smallville move for Durance.
CTV's official description... (opens in new tab)
Your Daily Blend of Entertainment News