South African Actress Tanit Phoenix Rumored For Wonder Woman Gig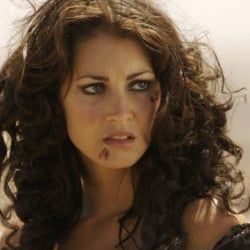 While a big screen Wonder Woman adventure is still something you and I and Joss Whedon can only dream about, there really is going to be another TV show, developed by The Practice mastermind David E. Kelley and due to show up on your TV screen at some point within the next year probably. With that in the works we're now due for an entire new round of Wonder Woman casting rumors, which may be marginally less annoying because they actually stand a chance of coming true, unlike the endless parade of "Eliza Dushku wants to play Wonder Woman"-type stories we've gotten before.
Over at the Australian site What's Playing they're writing that Tanit Phoenix, an actress you probably know as little as I do, is rumored to be in the running for the role, and at bare minimum has a promise of a screen test from the production team The South African actress's main credit thus far is in the direct-to-DVD sequel Lost Boys: The Thirst, but she'll also show up in another direct-to-DVD sequel, Death Race 2, and has also apparently been cast in a forthcoming cable series called Femme Fatales. I have no idea how that show might conflict with a potential Wonder Woman job, but Phoenix probably knows as well as I do which would make the better career opportunity.
If we were talking about the casting of a major tentpole movie, Phoenix's name wouldn't even be in the conversation-- actresses simply don't make that kind of leap from low-budget silliness to superhero in the movies. But things are a lot more flexible on TV, and it's possible to imagine Kelley pulling his lasso-wielding heroine from pretty much anywhere. Will it be Phoenix? Eh, probably not. But her photo above should at least give you an idea of what they're going for.
Staff Writer at CinemaBlend
Your Daily Blend of Entertainment News
Thank you for signing up to CinemaBlend. You will receive a verification email shortly.
There was a problem. Please refresh the page and try again.