Spartacus' Steven DeKnight To Take Over Netflix's Daredevil Series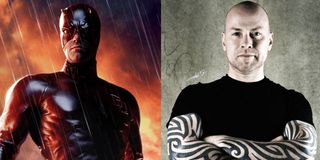 There's some definite shuffling going on at Marvel recently. Earlier, we learned that Edgar Wright was exiting the anticipated Ant-Man feature film, and now comes word that Drew Goddard has stepped down as showrunner from Netflix's Daredevil series. While Goddard heads over to the feature side to work on Sony's Sinister Six, Spartacus showrunner and former Buffy the Vampire Slayer writer Steven DeKnight is in talks to take over Daredevil.
Got all that? Wright's off Ant-Man, Goddard's off Daredevil and on Sinister Six, DeKnight's on Daredevil. But who's on first?!
THR has confirmed that Drew Goddard (The Cabin in the Woods, Buffy the Vampire Slayer) is stepping down as showrunner from Netflix's planned Daredevil series and is set to write and direct Sony's villain-focused Spider-Man spinoff Sinister Six. Meanwhile, Steven S. DeKnight is said to be finalizing a deal to board the Daredevil series. UPDATE - Marvel just confirmed, so it looks like it's official.
From the perspective of a Spartacus fan, or anyone who loved DeKnight's work on Buffy the Vampire Slayer, Angel and Dollhouse, his arrival at Daredevil is exciting news. And it's well worth noting that DeKnight not only has experience running a fantastic TV drama -- if you haven't seen Spartacus, it's going to start airing on Syfy next month! -- but he's also a Joss Whedon alum, which should be comforting news, especially in light of Drew Goddard's departure as showrunner. Goddard, who penned the first two episodes, will remain with Daredevil as executive producer.
Last we heard, the 13-episode Daredevil series -- the first of a handful of planned Marvel series lined up for Netflix -- was supposed to begin production in New York this summer. Whether or not this showrunner shift will affect the schedule remains to be seen, but from Marvel's announcement, we should expect to see Daredevil on Netflix sometime in 2015. Netflix and Marvel are also planning series centered on Luke Cage, Iron Fist and Jessica Jones.
Since THR's report broke, Steven DeKnight tweeted the following...
And he has also stated that he's deeply honored to be a part of it.
Fans of DeKnight from Buffy the Vampire Slayer, Spartacus and his other series have been waiting to see what the writer would do next. He had a sci-fi drama for Starz in development as of last year, but there hasn't been any update on Incursion in a while. At this point, it may be safe to assume Incursion isn't going forward, or at the very least, that it's been put on the back burner as DeKnight moves on to handle Daredevil for Netflix.
Your Daily Blend of Entertainment News
Thank you for signing up to CinemaBlend. You will receive a verification email shortly.
There was a problem. Please refresh the page and try again.